After recent reports revealing government use of facial recognition that fails to correctly identify people of color at a much higher rate than white people, Democratic lawmakers have proposed the Facial Recognition and Biometric Technology Moratorium Act to ban government use of the technology. Amazon, IBM and Microsoft have already temporarily stopped selling their facial recognition software to law enforcement agencies, and the bicameral bill would make this state of affairs permanent.
CNBC reports that Amazon, IBM and Microsoft, which stopped selling their facial recognition technology "amid rising scrutiny of surveillance systems tracking widespread protests over the death of George Floyd," stated "the lack of regulation as a core reason for their decisions."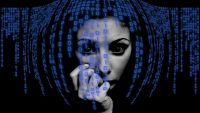 The Act would forbid federal agencies from relying on "facial recognition technology or other biometric tools like voice recognition, unless Congress lifts the ban with a separate act … [and] would also ensure that only state and local entities that have their own moratoria in place could receive federal grant funding."
Last week, New York City became the 14th city to adopt an ACLU-promoted bill to "require the local police department to disclose how it uses surveillance technologies" and how it protects residents' privacy.
Further, federal money would be off-limits to fund biometric surveillance systems and, "any data collected in violation of the act would not be allowed in judicial proceedings." State attorneys general "would also be able to enforce the law … states and localities could enact their own laws on top of the federal legislation … [and] individuals would be able to sue when they believe their biometric data was used in violation of the act."
The act will soon be introduced by Senators Ed Markey (D-Massachusetts), Jeff Merkley (D-Oregon) and Representatives Pramila Jayapal (D-Washington) and Ayanna Pressley (D-Massachusetts). Color of Change, MediaJustice, the ACLU, and Electronic Frontier Foundation are among the groups supporting the bill.
VentureBeat reports that Detroit resident Robert Williams, who is black, was arrested by police after Rank One Computing's facial recognition software wrongly identified him as a shoplifter caught in a surveillance video. Rank One said it would "add legal means" and conduct research to "thwart misuse."
The ACLU of Michigan released a video in which Williams said officers acknowledged "the computer" must have been wrong. Both the Michigan State Police and Rank One have guidelines stating that, "a facial recognition result should not be used as the basis for an arrest."
Wayne County prosecutor Kym Worthy admitted that, "police lacked corroborating evidence before arresting Williams." "This case should not have been issued based on the [police] investigation, and for that we apologize," she stated. In response, Detroit police now only use facial recognition for "violent crimes and home invasions."
Rank One chief executive Brendan Klare stated that his company "will add a legal means to revoke any use of our software that violates our Code of Ethics and conduct a technical review of additional safeguards we can incorporate into our software to prevent any potential for misuse." But he also blamed police for arresting him without sufficient evidence as the "key issue" in the case.
Related:
AI Startup Pilots Digital Masks That Counter Facial Recognition, CoinDesk, 6/23/20
An Algorithm That 'Predicts' Criminality Based on a Face Sparks a Furor, Wired, 6/24/20
Wrongfully Accused by an Algorithm, The New York Times, 6/24/20
Boston Bans Facial Recognition Due to Concern About Racial Bias, VentureBeat, 6/24/20
Topics:
ACLU
,
Amazon
,
Ayanna Pressley
,
Brendan Klare
,
Color of Change
,
Congress
,
Ed Markey
,
EFF
,
Facial Recognition
,
George Floyd
,
IBM
,
Jeff Merkley
,
Kym Worthy
,
Law Enforcement
,
MediaJustice
,
Michigan State Police
,
Microsoft
,
Pramila Jayapal
,
Privacy
,
Rank One Computing
,
Robert Williams
,
Surveillance
,
Voice Recognition