Plug is a small network connected device that enables users to convert a portable hard drive into private cloud storage that can be shared between PCs, smartphones and tablets. The creators are looking to create a more secure alternative to services such as Dropbox to store, preserve and share data. With 38 days remaining, the Kickstarter campaign has already significantly exceeded its original $69,000 goal (as of press time, the total was $736,790).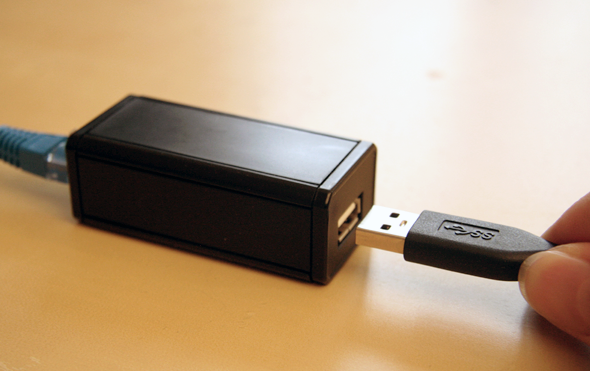 "To get started with the Linux-powered Plug, all the user has to do is connect the small device to the home's router using an Ethernet cord and connect a storage device to the opposite side via USB," explains Digital Trends.
"In addition, the user can connect multiple storage devices to the Plug by adding a USB hub. After the user installs the Plug application on their computers and mobile devices, files can be shared, snyced, downloaded and uploaded on all the user's devices. The concept is pretty much identical to Box.com, Google Drive, Microsoft Skydrive or any other cloud storage service."
"Today, most people have files everywhere. They have one content, but multiple devices. So they spend a lot of time just figuring out where are their documents. And they keep moving their files to-and-from tiny cloud folders," explains the Plug Kickstarter page. "So we decided to solve this problem, from its root. We redesigned the way your devices store data, from the ground up… With Plug, your devices work as a group. They all contain exactly the same files. Just like if they were one single, unique device."
Plug offers the ability to stream media from a home storage device. For example, movies stored on an external drive can be streamed on a tablet or phone as long as the video formats are compatible. The mobile app organizes data by file type for easy browsing.
The Kickstarter project page lists several examples of the benefits of Plug:
Play with exactly the same content at all times, no matter which device you're using.
Put thousands of movies on your iPad, even if you bought a small one.
Watch family pictures on your connected TV, without having to transfer them.
Share confidential folders with your colleagues without sending them to the cloud companies.
Send documents instantaneously.
"One of the main benefits to creating your own cloud storage is the potential to add tons of storage space," notes Digital Trends. "While a service like Dropbox charges $795 per year for unlimited space, a Plug user could simply spend $200 for an additional portable hard drive each time they needed an additional 4TB of space."
The Plug device, slated for early 2014 release (December 2013 for the biggest investors), is expected to sell for $150.