Intel has unveiled a new glass substrate technology that it says will "benefit our key players and foundry customers for decades to come." The result of 10 years and $1 billion in development, the concept substitutes glass for the usual resin in which processors are embedded, enabling greater speed and the ability to accommodate the industry's move toward packaging numerous "chiplets" into more powerful large processors, a configuration that has proven beneficial for the acceleration that drives artificial intelligence. This technology could potentially vault Intel ahead of competitors, some say.
"One hundred percent, this is going to end up leading to a competitive advantage," Creative Strategies Analyst Ben Bajarin told CNET of the glass substrate method, which Intel presented at its new Arizona plant Monday ahead of its Innovation 2023 event this week in San Jose, California.
There, "Intel transforms sheets of glass the size of a small tabletop into paperclip-sized rectangular sandwiches of circuitry built with some of the same techniques as the processor itself," CNET writes.
While Intel is not credited with inventing the chiplet approach, it has been using the technology since 2016 "to catch up to competitors with superior processor manufacturing abilities" and now "can use it to outpace rivals in an era when exploding demand for new processing power has surpassed the industry's ability to deliver it," reports CNET.
Positioning chiplets in the context of Moore's Law, "which charts progress in cramming more circuitry elements called transistors into a processor," CNET explains that "the A17 Pro processor in Apple's iPhone 15 Pro has 19 billion transistors. Intel's Ponte Vecchio supercomputing processor has more than 100 billion. By the end of the decade, Intel expects processors with — if you can imagine it — a trillion transistors."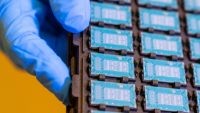 "Compared to today's organic substrates, glass offers distinctive properties such as ultra-low flatness and better thermal and mechanical stability, resulting in much higher interconnect density," Intel says in its announcement.
"These benefits will allow chip architects to create high-density, high-performance chip packages for data-intensive workloads" including AI, Intel says, adding that it is "on track to deliver complete glass substrate solutions to the market in the second half of this decade, allowing the industry to continue advancing Moore's Law beyond 2030."
"Intel sees glass as a vital material in the race to power AI," writes Bloomberg, reporting that the company will spend roughly $18 billion in R&D this year." SiliconANGLE presents a deep dive into substrate technology and talks about how the industry is trending toward replacing electrical chip components with optics.
At Innovation, Intel revealed new details about its 5th Gen Xeon chips, called Emerald Rapids, releasing in December, as detailed in Wccftech, which recounts "a large AI supercomputer will be built on Intel Xeon processors and Intel Gaudi2 AI hardware accelerators, with Stability AI as the anchor customer."