To battle the increasing challenges that music labels have experienced with selling albums, some independent labels and their artists have decided to embrace streaming. Drip.fm, a two-year-old subscription streaming and download service, has partnered with Sub Pop Records to provide subscribers with the label's albums, singles and special exclusives for $10 per month. The idea is to cultivate and monetize the most loyal fans as streaming continues to popularize.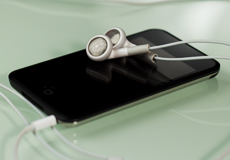 Sub Pop Records is a prominent indie label that has produced clients such as Nirvana and the Shins. The concept has also attracted smaller labels including Fool's Gold, Jagjaguwar and Secretly Canadian, who have also signed on with Drip.fm in order to supply exclusive music and an intimate connection.
"Richard Laing, Sub Pop's director of sales, sees the partnership with Drip.fm as a way to capture some of the same intense brand loyalty the label engendered in the CD-and-cassette era of the early 1990s," reports The New York Times.
Digitally savvy musicians have also taken to starting their own service to appeal to their fans, including Nicolas Jaar's Other People and Ryan Hemsworth's Secret Songs.
"Digital downloads declined nearly 12 percent in the first half of this year compared with the first half of 2013," notes NYT.
Popular artists, such as Beyonce or Katy Perry, generate substantial revenue despite making only a fraction of a cent each time a song is played. This is because they have mainstream appeal and generate millions of plays.
Streaming services do not have the same effect for indie labels.
"Spotify, the YouTube service, the Beats service, that's like going to a big grocery store, and you can find any kind of food you like," said Nicolas Jaar, an electronic artist with a small but loyal following. "But for me personally, I prefer inviting someone over to my house and cooking for them."
Related News:
Sony Threatens to Bypass Licensers in Royalties Battle, The New York Times, 7/10/14
Topics:
Album
,
Artist
,
Beats
,
Beyoncé
,
Cassette
,
CD
,
Download
,
drip.fm
,
fool's gold
,
Independent
,
Indie
,
jagjaguwar
,
Katy Perry
,
Label
,
Licensing
,
Music
,
Musician
,
Nicolas Jaar
,
nirvana
,
Revenue
,
richard laing
,
Royalties
,
ryan hemsworth
,
secretly canadian
,
Sony
,
Spotify
,
Streaming
,
sub pop records
,
Subscription
,
the shins
,
YouTube