Huawei Technologies has inked 40 commercial contracts for 5G technology, leading its Q1 revenue to leap 39 percent to 179.7 billion yuan ($26.8 billion). The Chinese company also stated that it has shipped about 70,000 5G base stations, making it a leading supplier of 5G gear. Huawei's net-profit margin rose a bit to 8 percent. The company also introduced what it calls the world's first 5G-communication hardware for the auto industry. Its MH5000 module is built on its newly launched Balong 5000 5G chip.
The Wall Street Journal reports, "the first-quarter results suggest Huawei continues to pull ahead of its main Western rivals, Nokia of Finland and Ericsson of Sweden." Huawei's newly-released Q1 numbers are its "first-ever quarterly update, which didn't include the net-profit figure or detailed results for its separate business lines." The company, which said it has shipped 59 million smartphones in the same quarter, is readying the launch of its Mate X, a $2,600 foldable smartphone.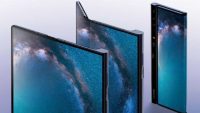 Asserting that Huawei is a cybersecurity threat, the U.S. government has blacklisted Huawei gear and encouraged its allies to do the same. Australia and New Zealand "have taken steps to limit the use of Huawei gear," but Europe is a significant client for the company's 5G products. Huawei has pushed back, saying its gear is safe and filing a lawsuit challenging "a U.S. law that bans federal agencies from purchasing its products."
VentureBeat reports that Huawei's MH5000 5G car module, which debuted at the Shanghai Auto Show, offers "high speed and high quality." The company stated that the module "will aid its plans to start commercializing 5G network technology for the automotive sector in the second half of this year." In Shanghai, Shenzhen and Wuxi, Huawei has been "testing technology for intelligent connected cars" and also inked cooperation deals with car manufacturers including FAW, Dongfeng and Changan.
Topics:
5G
,
Australia
,
Automotive
,
Balong 5000
,
Base Stations
,
Changan
,
China
,
Chips
,
Connected Cars
,
Cybersecurity
,
Dongfeng
,
Ericsson
,
FAW
,
Finland
,
Foldable Phone
,
Huawei Technologies
,
Lawsuit
,
Mate X
,
MJ5000
,
Mobile
,
New Zealand
,
Nokia
,
Security
,
Shanghai
,
Shenzhen
,
Smartphones
,
Sweden
,
Wuxi