During yesterday's HPA Tech Retreat, I moderated a panel on two emerging production standards: DPP and IMF. Although SMPTE standard IMF (Interoperable Master Format) is familiar to many in the industry as a single, interchangeable master file format that allows for flexible versioning, very few in our industry know about DPP (Digital Production Partnership), a new British standard for B2B file exchange. Our discussion tracked the evolution and potential overlap of the standards, and how they are currently being used in the industry.
Modern VideoFilm's Sieg Heep, Dalet Digital Media Systems' Bruce Devlin, CineCert's John Hurst and IABM's Stan Moote joined me on stage to discuss these two standards.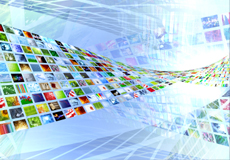 The panel started with an audience poll: the questions were to determine how many people have difficulties with received files not working correctly, how frequent that problem occurred and if the problem cost money and time.
The answer, not surprisingly, was that almost everyone in the audience had that problem. Hence the discussion on IMF and DPP, both standards trying to create an environment of file consistency and interoperability in an otherwise chaotic environment of file formats, codecs and other parameters.
Devlin revealed the origins of DPP as a group of U.K. broadcast engineers commiserating in a bar over their difficulties in getting received files to playback properly.
"They said, why are we spending time and effort when we just want to get programs from post facilities to on air," said Devlin. "Why don't we just have a delivery format like the old days? That's what DPP did. They needed to figure out how a file-based workflow would improve their work."
Why do we need DPP or IMF when we've got MXF? "Everyone got involved over the years with MXF and realized the pain that it caused," said Moote. "Over the years it's been really interesting how people got confused about MXF. They assumed it was a complete system, not just a wrapper. DPP defines exactly what the broadcasters want."
For people in the post environment, DPP or IMF is "just another deliverable," said Heep. He took a deep dive into the specifications of DPP and IMF, comparing and contrasting the two standards, which he defined as "different animals for different use cases."
"IMF is oriented towards content owners (studios) and DPP to broadcasters," he said. "IMF uses JPEG 2000 and DPP uses HD, AVC-Intra (H.264 video code)." He further described the differences with metadata, audio and other parameters. Heep revealed that he's already heard talk of a North American DPP, and Moote said he'd heard about a DPP for Europe.
Who pays for the certification of these standards? Hurst stated that improvements in interoperability make the costs a worthwhile investment. Both DPP and IMF are out in the marketplace, although few people are using them at this point in time.
Devlin revealed that the very popular U.K. soap opera "Coronation Street" has used the DPP format from camera to deliverables, to ensure a consistent delivery to the many countries in which the show airs.
Still, when I asked the audience who planned to deploy an IMF or DPP production this year, few raised their hands, although many more planned a file-based production and delivery. By HPA Tech Retreat 2016, many more producers will no doubt have had enough problems to reveal the wisdom of adhering to a consistent file standard.
Topics:
B2B
,
Broadcasters
,
Bruce Devlin
,
CineCert
,
Dalet
,
Digital Production Partnership
,
DPP
,
Europe
,
File Exchange
,
Hollywood Post Alliance
,
HPA Tech Retreat
,
IABM
,
IMF
,
Interoperable Master Format
,
John Hurst
,
Master File Format
,
Modern VideoFilm
,
MXF
,
Sieg Heep
,
SMPTE
,
Stan Moote
,
Standards
,
Studios
,
United Kingdom
,
Workflow