Automobile manufacturer Honda recently launched a national campaign called Project Drive-In that hopes to preserve a bit of American history by upgrading drive-in theaters in the U.S. The company plans to donate digital projects to five drive-in theaters that receive the most votes on its website. Honda will also take financial donations to assist in providing more projectors. Drive-ins are struggling, especially during the transition to digital format films.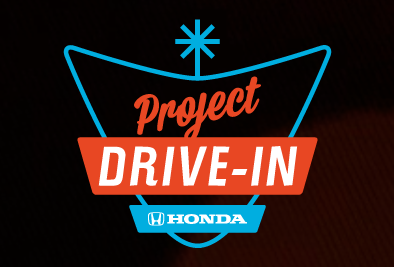 "By the end of 2013, Hollywood is expected to halt 35 millimeter film distribution to all U.S. movie theaters," reports Ad Age. "While most indoor chains have all made the switch, the move imperils hundreds of drive-in theaters, given the costly switch to digital projection — estimated at $75,000 or more per screen."
Drive-ins typically do not have the same daily sales volume to cover the costs of transitioning to digital. This is especially true in that many theaters are seasonal and offer fewer screens.
"Part of Honda's goal is raising community awareness that drive-ins could soon become relics," notes the article. "But Honda is also donating digital projectors as part of a crowdsourcing campaign by its longtime agency, Los Angeles-based agency RPA."
The company has setup a Project Drive-In website, and people are invited for one month to vote for five drive-ins that will receive digital projectors donated by Honda. The winners will be announced in September.
"Cars and drive-in theaters go hand-in-hand, and it's our mission to save this decades-old slice of Americana that holds such nostalgia for so many of us," said Alicia Jones, manager of Honda & Acura social marketing. "We're committed to helping the remaining drive-in theaters flourish with the move to digital projection."
The website encourages people to share campaign information using social media with a hashtag, and asking for pledges to attend a local drive-in. Honda is also asking for donations to their Project Drive-in Fund to provide more digital projectors.
Honda is also partnering with Sony Pictures in its campaign. The two companies are touring various drive-in and offering free movie screenings of the upcoming "Cloudy With a Chance of Meatballs 2."
A promotional video can be viewed at Honda's ProjectDriveIn.com.
Topics:
Automobile
,
Car
,
Cinema
,
Crowdsource
,
Digital Projection
,
Distribution
,
Donation
,
Drive-In
,
Exhibition
,
Film
,
Honda
,
Manufacturer
,
Meatballs
,
Movie
,
National
,
Nationwide
,
pledge
,
Project Drive-In
,
ProjectDriveIn
,
Projector
,
RPA
,
Sony
,
Sony Pictures
,
Theater