Viggle, creator of the mobile second screen app and loyalty program that rewards viewers for engaging with TV shows, has launched the Viggle Audience Network, providing advertisers with access to an audience of nearly 10 million users. While Viggle has nearly three million registered users, it also leverages users from initial launch partners including discovery platform Boxfish, independent fan site BuddyTV and Dijit Media's NextGuide. Viggle will be able to sell ads across the entire group.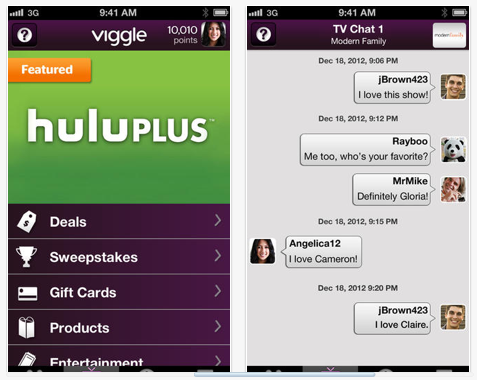 "Viggle provides measurable and targeted fan engagement in real-time for a highly engaged TV audience," notes the press release. "This includes Viggle's recently launched iPad app, now available on the App Store. The network will allow Viggle to sell advertising across partner properties in a variety of ad formats, including video pre-rolls and takeovers, mobile display banners, and other Interactive Advertising Bureau (IAB) mobile-optimized units."
The Viggle app is also available for the iPhone (screenshots pictured here) and as an Android app via Google Play. Reward partners include Best Buy, Papa John's, Fandango, Hulu Plus and Groupon, among others. The app enhances the TV experience with interactive games and chat features.
"The Viggle Audience Network aggregates the sizeable audiences of all of these popular second screen properties," said Kevin Arrix, Viggle CRO. "Through the network, which we'll be spearheading, we'll be able to bring scale to advertisers who are looking for mobile, video, and engagement advertising centered around and as an extension of their TV buys. Today's announcement is just the beginning and we plan to announce other partners shortly."
"Viggle's continued growth has prompted new and unique opportunities not only for our dedicated users but for advertisers to engage with them beyond our platform," said Greg Consiglio, Viggle president and COO. "The Viggle Audience Network will serve as a bridge for advertisers between Vigglers and these sites' visitors, enabling marketers to roll their campaigns out to them simultaneously for maximum impact."
Consiglio told Cynopsis Digital that from its January 2012 launch through June 10, "Vigglers" had redeemed 1,824,043 rewards worth $13 million to consumers. The company has generated more than $10 million in revenue since its launch.
Topics:
Ads
,
Advertising
,
Android
,
App
,
App Store
,
Apple
,
Banner
,
Best Buy
,
Boxfish
,
BuddyTV
,
Companion
,
Dijit Media
,
Fandango
,
Groupon
,
Hulu Plus
,
IAB
,
iPad
,
iPhone
,
iTunes
,
Loyalty
,
Mobile
,
NextGuide
,
Papa John's
,
Partners
,
Phone
,
Program
,
Second Screen
,
Show
,
Smartphone
,
Tablet
,
Television
,
TV
,
Video
,
Viggle
,
Viggle Audience Network