The studios are getting serious about VR productions, infusing them with more talent, money and time, and focusing on higher production values, original stories and a bit of celebrity. At the Tribeca Film Festival, virtual reality productions from director Kathryn Bigelow, musicians John Legend and Pharrell Williams, and producer Megan Ellison among others will be showcased. IMAX is also investing in venues for experiencing VR, with a center opening in Los Angeles, and plans to open more in the U.S., U.K., and China.
The Wall Street Journal notes that VR is still "a creative niche that has yet to be fully identified or understood," with uncertainties about "whether mainstream audiences will want to interact with characters and alter plots or play a more ghost-like observational role."
Director Jon Favreau notes that, "nobody quite knows what it is but you can tell that the sauce is bubbling and something's going to happen soon." Favreau's studying Walt Disney to better understand how he used new technology to connect with audiences.
Even though VR is a nascent art form, it's scoring successes, including its first Oscar-nominated short. Created for Google Spotlight Stories, "Pearl" was produced in 2D and VR; the former was nominated for best animated short. Alejandro Iñárritu and cinematographer Emmanuel Lubezki, both Oscar winners, will debut "CARNE y ARENA," the first VR project that is an Official Selection of the Cannes Film Festival next month.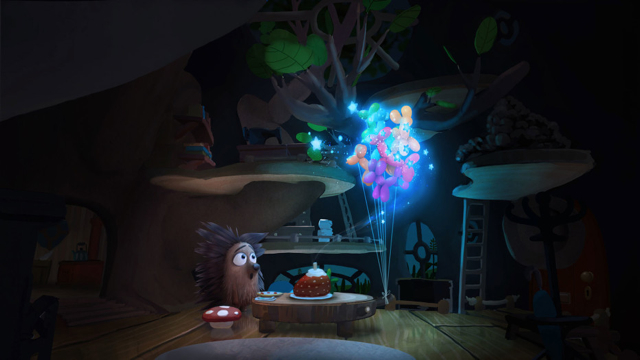 Last year, Oculus Story Studio's original "Henry," about a lonely hedgehog (above), was the first VR project to win an Emmy for outstanding original interactive program.
Virtual Reality Company co-founder Robert Stromberg, production designer for "Avatar," believes that "VR will start reaching its full potential when filmmakers figure out how to place popular actors inside these generated worlds, enabling audiences to exist alongside those living, breathing performances."
"That's the holy grail of what needs to happen," he said. He's interested in 30-seat VR theaters and movie intermissions, so viewers can share their experiences.
VR company Within's founder/chief executive Chris Milk, who recently debuted "Life of Us" at the Sundance Film Festival, wants viewers to be able to interact with each other. "Bar none, VR is going to be the most connected artistic medium for storytelling that we've ever experienced," he said.
Topics:
Alejandro Iñárritu
,
Cannes Film Festival
,
Chris Milk
,
Emmanuel Lubezki
,
Google Spotlight Stories
,
IMAX
,
John Legend
,
Jon Favreau
,
Kathryn Bigelow
,
Life of Us
,
Megan Ellison
,
Oculus Story Studio
,
Pharrell Williams
,
Robert Stromberg
,
Sundance Film Festival
,
The Virtual Reality Company
,
Tribeca Film Festival
,
Virtual Reality
,
Walt Disney
,
Within