In anticipation of a booming consumer drone market, GoPro has announced it plans to unveil a line of consumer multi-rotor helicopter drones for availability next year. Sources close to the company predict the drones will retail anywhere between $500 and $1,000. The company, which specializes in wearable video cameras for extreme sport enthusiasts, has been an advocate of the drone market. In fact, many of the drones available today are made to work with GoPro cameras.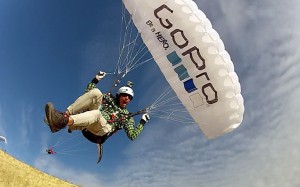 According to The Wall Street Journal, consumer drones that allow for cameras to be controlled with a tablet or smartphone will be popular during the upcoming holiday season.
While GoPro cameras have become popular with drone manufacturers, some companies such as SZ DJI Technology Co., the world's largest consumer-drone maker, have opted for in-house cameras.
WSJ reports that GoPro's shares have more than doubled since the company went public in June. Now the company is looking to expand beyond its popular action cams, entering a new market that has the potential to grow its current business.
Companies such as Parrot SA and DJI have reaped the early benefits of the lucrative consumer drone business. Parrot sales of consumer drones reached $24.2 million in the third quarter. DJI's release of a $1,000 quadcopter in 2013 generated $130 million in sales.
In related news, the Federal Aviation Administration remains concerned regarding the possible dangers of amateur drone operation as well as an increase of professional usage involving film and video production, aerial photography, and myriad of additional applications. To address these concerns, the FAA has compiled a list of drone sightings involving misbehavior and inappropriate use.
"Flying drones for profit is currently illegal in most cases in the United States, but it's allowed for recreational purposes, as long as pilots keep them below 400 feet, away from airports and avoid traditional airplanes," reports The New York Times. "But some drone pilots don't play by those rules, either intentionally or not. In a statement, the FAA said it received about 25 reports a month from pilots who had seen drones, including fixed-wing and helicopter varieties of the devices, operating near their manned aircraft."