Meta Platforms is planning staff reductions as part of a 10 percent cost reduction goal, reports say. Stalled growth and increased competition are among the reasons cited by 20 additional tech firms who have since the summer been contracting their workforce. In the case of Meta, it appears to also be a matter of reallocating funds so as not to drastically scale back its metaverse ambitions. Departments there are being reorganized and affected workers are being encouraged to apply for other jobs within the company. Word is Alphabet's Google is also seeking to fill vacancies by reassigning existing staff.
Consulting budgets and overhead are also targets amidst the industry-wide belt-tightening, as firms seek to avoid layoffs. At Meta, executives have in recent weeks expressed "the need for hiring freezes and 'ruthless prioritization' of its business while avoiding use of the word layoffs," according to The Wall Street Journal. "The company has been slashing its guidance for operating expenses since the third quarter last year but hasn't previously suggested it would reduce head count through means other than natural attrition."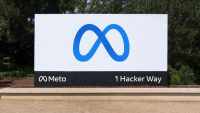 As of Q2, Meta said it had 83,553 employees, more than 32 percent than it had the same period in 2021.
And WSJ reports that "last week, Google told roughly half of the more than 100 employees at the company's startup incubator Area 120 they would need to find other jobs at the company within 90 days, said people familiar with the decision."
Last month, Fast Company wrote that "tech layoffs continue across the board," listing 19 firms that trimmed staff, including roughly 1,000 each from the payrolls of Snap and Shopify (representing 20 percent and 10 percent of their respective workforces).
Cost-cuts aren't Meta's only worries. This week, the company was "ordered to pay Voxer — creator of the Walkie Talkie messaging app — over $174 million in damages after a jury in Texas federal court found the social media giant guilty of violating two live-streaming patents with Facebook Live and Instagram Live," per The Verge.
A separate legal headache sees Meta facing a proposed class action lawsuit, for using an Apple app-tracking transparency workaround on both Facebook and Instagram "even after they were denied permission to do so," allegedly resulting in violations of state and federal law, writes 9to5Mac.
Three related complaints were filed in federal court in San Francisco this past week, says BNN Bloomberg, noting Meta acknowledged using an app to monitor browser activity, but denied illegality, calling the suits "without merit." Earlier this year, Meta was ordered to pay $90 million in another class action, reports CNET.
TikTok is also accused of skirting Apple's anti-tracking rules, and in a separate matter was last month ordered to pay $92 million in a class action complaint for violations of federal privacy law and the Illinois Biometric Information Privacy Act.
Related:
Meta, Google Learn the Art of the Quiet Layoff, The Register, 9/21/22
How Meta and Google Are Using Recession Fears to Clean House, Vox, 9/22/22
Google CEO Tells Employees Not to 'Equate Fun with Money' in Heated All-Hands Meeting, CNBC, 9/23/22
Facebook Users Sue Meta, Accusing the Company of Tracking on iOS, TechCrunch, 9/22/22
Topics:
Alphabet
,
Apple
,
Area 120
,
Big Tech
,
BIPA
,
Consulting
,
Employees
,
Facebook Live
,
Google
,
Hiring Freeze
,
Illinois
,
Instagram Live
,
iOS
,
Lawsuit
,
Layoffs
,
Litigation
,
Messaging
,
Meta Platforms
,
Metaverse
,
Patent
,
San Francisco
,
Shopify
,
Snap Inc.
,
Texas
,
TikTok
,
Voxer
,
Walkie Talkie
,
Workforce