A new generation of chips is making gesture tracking more accurate. German company Infineon Technologies AG has paired its radar chips with Google's algorithms to create Soli technology, enabling devices to detect smaller gestures from several meters away. The first Soli technology devices, presented at the Google I/O developer conference, are prototypes of an LG Electronics smartwatch and a Harman Kardon loudspeaker. Recognizable gestures include hand movements such as those required to wind a watch.
Bloomberg quotes Infineon executive Andreas Urschitz as saying that Soli technology "will be revolutionizing human-machine interaction far beyond the touchscreen of smartphones and even voice recognition."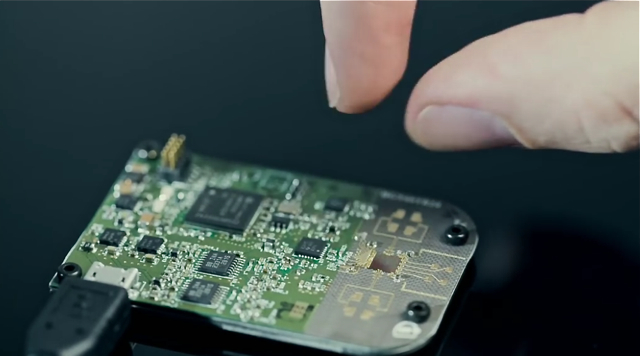 "Since mankind started using tools 2.4 million years ago, this is the first time tools adapt to the user instead of the other way around," he said.
Infineon's radar chips can "recognize individuals when they enter a room, detect finger and hand movements up to 15 feet away, and help workers steer machines and tools as industries digitize their factories," explained Urschitz, who estimates the technology's market is 80 million wireless audio units and 60 million smartwatches.
TechCrunch notes that Google's ATAP division, "responsible for turning some of the company's crazier ideas into products," shipped a developer kit related to Project Soli after last year's I/O conference to 60 developers. The result was "object recognition tools, musical instruments and more." That early SDK, however, used a lot of power, required a "fully powered" desktop/laptop even for a small sensor.
To meet the challenge of running on a smartwatch, the Google/Infineon team redesigned the chip to reduce power consumption by a factor of 22, with a three-times smaller footprint. The result is a new radar chip that is 265 times more efficient, still running at 18,000 frames per second.
The new Soli-powered smartwatch allows the user to interact with it without touching it. To scroll across the messages, the user merely has to hold his hand over the watch, moving closer or farther away. A virtual dial gesture is the way to interact with the watch face, which means, says the ATAP team, that, "you can show more information on the screen, simply because you don't have to account for the finger covering up the watch face."
In addition to the smartwatch, the team worked with Harman's JBL brand to create prototype speakers with built-in Soli radar for control from a distance of up to 15 meters. ATAP also plans to launch a new "beta-quality" SDK next year.