Remote, a platform that enables companies to hire and compensate distributed employees, has secured $300 million in a new funding round, raising its valuation to $3 billion and making it one of the biggest HR players in the new world order of distributed workforces. Leading the Series C round is SoftBank Vision Fund 2. The company said funding will be used to build new tools and expand the San Francisco-based company's geographic reach. Work from remote locations has been becoming more prevalent as a result of the COVID-19 pandemic, priming the market for Remote's expansion.
Previous investors Accel, Adams Street Partners, Base Growth, General Catalyst, Index Ventures, Sequoia, Two Sigma Ventures and 9Yards Capital also participated in this latest round. The company says "the number of employees processed through the Remote platform grew by 900 percent in the last year, with revenues up 13x in the same period," according to TechCrunch, which says Remote declined to disclose "actual revenues or other specific numbers."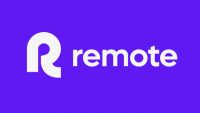 The company's pace "does not appear to be slowing down, even as offices gradually reopen and many parts of the world look to return to pre-COVID routines," reports TechCrunch, noting that even as investors have cooled on pandemic-fueled industries including remote work and delivery services, the cooling trend "appears to have passed over Remote."
Remote offers services including payroll, benefit administration, taxes and compliance for contractors and employees. Its customers include businesses of all sizes, from startups to enterprise, among them DoorDash, GitLab, Loom, HelloFresh and Paystack.
"While many jobs can't be done remotely, the work of people who stay in place on a computer all day is highly portable, a quality increasingly desirable to those individuals. That puts companies in a position to hire the best talent anywhere, no matter where anyone is, with a platform assist," writes PYMNTS.com, which says Remote CEO Job van der Voort believes it makes no sense that "'knowledge workers' with laptops should be required to go to offices at all."
Van der Voort told PYMNTS.com that "the reason we founded Remote is because we don't understand why it would be necessary at all for you to commute to a particular place, or to live in a particular city, just to do work from your computer all day." Van der Voort was previously a vice president of product for GitLab, an organization he helped grow from a remote team of five to 450 employees.