Bill Gates and Nathan Myhrvold have unveiled another compelling idea — a device or app that can automatically create custom video clips from any selection of text. For Gates and Myhrvold, creating videos from text or images would be a major feat. But the pair have also patented other technologies with major potential, such as a Hurricane Suppression System for the Gulf of Mexico. If the video technology is made, it can have an impact on how students view reading.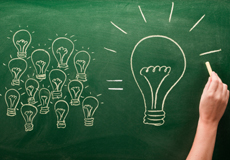 The technology has recently surfaced in a filed patent, according to GeekWire. "'Autogenerating Video From Text,' describes a device that can scan text on a page, read and analyze the text, understand what a given sentence is saying and automatically create some kind of video (or series of pictures) based on that text… with features that tailor the experience to a user's preferences."
Gates and Myhrvold are two of ten inventors listed on the patent, which may be an indication of product development by Intellectual Ventures. Myhrvold, former technology chief at Microsoft, leads Intellectual Ventures and is typically involved in various ventures with Gates.
The patent describes the potential application:
According to one contemplated scenario, a student is assigned a reading assignment. To make the assignment more interesting, the student may use his or her mobile phone to take a picture of a page of the textbook. The systems and methods described herein may then generate a synthesized image sequence of the action occurring in the text. Thus, rather than simply reading names and dates, the student may see soldiers running across a battlefield.
Another example of where the video creator may be applied is when a student is reading Shakespeare, and scans a selection of the text. A video is created that shows one of the scenes and may add images of family members rather than conventional characters.
Topics:
App
,
Auto
,
Automatic
,
CTO
,
Custom
,
Filing
,
Gates Foundation
,
Intellectual Ventures
,
Inventor
,
Microsoft
,
Microsoft Applied Science
,
Mobile
,
Patent
,
Patent Office
,
Personalized
,
Phone
,
Reading
,
Shakespeare
,
Smartphone
,
Student
,
Text
,
Video