Digital Cinema Distribution Coalition announced that it has reached agreements with five movie studios to provide digital delivery services to theaters in North America. The DCDC satellite and terrestrial digital distribution network will deliver feature, promotional, pre-show and live digital cinema content from Lionsgate, Universal Pictures, Disney, Warner Bros. and Paramount Pictures.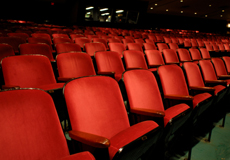 "The studio agreements mark another step toward realizing the promise of digital cinema, including the belief that when d-cinema reached critical mass it could significantly reduce the cost of distribution, which at the start of the transition involved shipping film prints and today often has involved shipping hard drives," writes Carolyn Giardina for The Hollywood Reporter.
Many movie theaters are no longer using film prints today. It may only be a matter of time before the distribution of film prints will cease to exist.
"The vision of creating a cross-industry distribution service to benefit distributors, exhibitors, service providers and consumers is becoming a reality," said Darcy Antonellis, president, technical operations, and CTO of Warner Bros. Entertainment. "We're extremely pleased to be working with our colleagues to bring to fruition a powerful distribution network that is advantageous for us all."
"DCDC is creating a technological superhighway," added Cinemark CEO Tim Warner. "It's one port access to thousands of screens, for both movies and alternative content, from all content providers."
The service is expected to begin operation by midsummer, once 300 sites have been deployed. Installations will include a theater appliance from KenCast, while satellite operations will be provided by Deluxe/EchoStar. According to Variety, Fox and Sony are also in negotiations to join the other five studios.
"DCDC's service platform is the state of the art for digital delivery of various kinds of content to theaters in North America," said Randolph Blotky, spokesman for the coalition. "Its business model will assure long-term, consistent, low-cost pricing to content providers and exhibitors across the industry."
DCDC was formed by AMC Theatres, Regal Entertainment Group, Cinemark Theatres, Universal Pictures and Warner Bros.
Topics:
AMC
,
Cinemark
,
DCDC
,
Digital Cinema
,
Digital Distribution
,
Disney
,
FOX
,
Lionsgate
,
Paramount
,
Regal
,
Satellite
,
Sony
,
Streaming
,
Theater
,
Warner Bros.