An international group of more than 100 television and movie production professionals has petitioned Apple CEO Tim Cook with an open letter requesting improvements to make the company's Final Cut Pro video editing software more commercially viable. Although generally capable of professional execution and apparently fun to use — qualities that have made it popular among individual creators, amateur and pro alike — Final Cut lacks collaborative features and general awareness among industry decision-makers, signatories say. Posted Tuesday on the eve of the NAB Show using GoPetition, Apple has not yet responded to the communique.
The letter "asks that Apple start certifying and supporting third-party product integration," writes Gizmodo, adding that "knowing Apple's Gollum-esque sensibility toward its proprietary software and hardware, that last point and others might be a tough sell." Lack of adherence to industry standards and the absence of a beta testing program that would see Final Cut benefit from informed feedback are also sore points, though the primary complaint seems to be one of perception.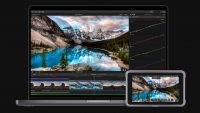 Peers of FOX TV series "War of the Worlds" editor in chief Steven Sanders "refer to Final Cut as 'iMovie Pro,'" a play on Apple's consumer product with limited features, the preamble to the open letter points out. "Editing big productions needs collaboration. Different users have to be able to access the same library at the same time," says Sanders, noting, "Avid Media Composer does it and even DaVinci Resolve does it. Apple still targets the single user."
According to Sanders, the second biggest obstacle to widespread industry adoption of Apple's non-linear editing (NLE) program is: "Many professionals do not know how Final Cut works. They are afraid of it." This is something the petition-signers say "Apple's upcoming new Final Cut Pro Certification exams may help."
"Apple has showed a significant renewed interest in professional hardware solutions with the advent of its M1-series of Apple silicon," writes Digital Photography Review, noting, "the new Mac Studio computer is aimed at heavy-duty users and Apple has stated that it's working on a new Mac Pro computer that will use Apple silicon."
Earlier this month, Apple released a Final Cut Pro update to optimize playback and graphics performance for M1 Max and M1 Ultra on the new Mac Studio, but the industry says the company did not go far enough.
"The main takeaway is that Final Cut Pro lacks the respect it deserves in the industry because of missing collaboration and integration features," is the verdict of 9to5Mac, which concludes that "as amazing as the Pro Apps team has been over the last decade, essentially rebuilding Final Cut Pro from the ground up into the powerful NLE that it is today, there is still a lot of remaining work to be done."
Topics:
Apple
,
Avid
,
DaVinci Resolve
,
Editing
,
Final Cut Pro
,
FOX TV
,
GoPetition
,
iMovie
,
M1 Chip
,
M1 Max
,
M1 Ultra
,
Mac Pro
,
Mac Studio
,
Media Composer
,
Movies
,
NAB
,
NLE
,
Post Production
,
Software
,
Standards
,
Steven Sanders
,
Tim Cook
,
TV Shows
,
Video
,
Video Editing
,
War of the Worlds