At the Game Developers Conference in San Francisco, Epic Games demonstrated "Troll," featuring digital humans built with Unreal Engine by studios Goodbye Kansas, Deep Forest Films, and 3Lateral. The scenes created in "Troll" use high-level real-time lighting and animation effects. Epic also announced it is providing its Epic Online Services software development kit (SDK), originally built for "Fortnite," to game developers for free. Additionally, the company announced $100 million in grants to anyone working to "enhance 3D graphics and inspire creativity."
VentureBeat reports that Epic Games has evolved its digital human technology, last year teaming up with CubicMotion, 3Lateral, Tencent, and Vicon to create Siren, "a woman rendered in real-time using Epic's Unreal Engine 4 technology." The year before, 3Lateral live-demoed Senua (from "Hellblade: Senua's Sacrifice"); company founder Vladimir Mastilovic noted how difficult it is to "make digital humans look and move in a realistic way, without incurring a huge amount of cost."
Epic Games' chief technology officer Kim Libreri reported that the engine is now "capable of ray tracing out of the box," which brings "a quality of lighting that you've really only seen in animated movies or live-action photography." Based on a Swedish fairy tale, "Troll" is rendered in real-time on an Nvidia GeForce RTX 2080 Ti at 24 fps.
Elsewhere, VB reports that Epic Online Services is available via a developer portal, where "developers can access services, including game analytics to understand and boost player retention and engagement and a ticketing system to connect directly with players through integrated customer support tools that tie tickets to a player's profile."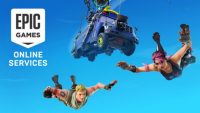 Epic Games chief executive Tim Sweeney encouraged developers to use Epic Online Services "on any platform across any store for free, including competing stores." "Developers are free to mix and match and choose," he stressed. Epic will roll out "additional features and tools" throughout the year.
Variety reports that Sweeney also revealed "a commitment to hand out $100 million to game makers, film and TV creators, students, educators, tool developers," under the umbrella of Epic MegaGrants, an evolution from Epic's Unreal Dev Grants program. The latter began awarding $5 million starting in 2015. Sweeney noted that the grants are "no-strings-attached."
"If you don't need to use our engine, it doesn't need to be in our store," he said, noting that the grants are "our way of sharing" the "unbelievable success" of "Fortnite."
Epic encouraged applications from game developers; individuals or teams in media & entertainment; enterprises for non-gaming verticals; students and educators; and those developing open-source and other tools. More details are available here. The awards, which will range from $5,000 to $500,000, will "cover a variety of endeavors." Grant recipients will retain their IP, and submissions will be considered and grants awarded on a rolling basis.
Related:
Epic CEO on 250 Million Fortnite Players, Digital Humans, and $100 Million Dev Fund, VentureBeat, 3/20/19
Epic Games Store Gets Off to a Good Start With Millions of Free Downloads, VentureBeat, 3/20/19
Topics:
3Lateral
,
CubicMotion
,
Deep Forest Films
,
Developer
,
Digital Humans
,
Epic Games
,
Epic MegaGrants
,
Epic Online Services
,
Fortnite
,
Game Developers Conference
,
GDC 2019
,
Goodbye Kansas
,
Hellblade: Senua's Sacrifice
,
Kim Libreri
,
Nvidia
,
SDK
,
Tencent
,
Tim Sweeney
,
Troll
,
Unreal Dev Grant
,
Unreal Engine 4
,
Vicon
,
Vladimir Mastilovic