Engadget writes about its favorite devices and trends to come out of last week's Mobile World Congress in Barcelona. While there weren't many debuts of flagship products compared to previous years, some devices still stood out, including the new LG handsets, the Sony Xperia Tablet Z, and HTC's recently launched One smartphone. Regarding wireless products, Engadget calls this year's MWC one big "NFC love fest."
The top products on display at this year's show, according to Engadget: 1) Best Phone — LG Optimus G Pro; 2) Best Tablet — Sony Xperia Tablet Z; 3) Best Device Design — HTC One; 4) Best Connectivity Device — Sony Xperia T.
LG showed off its Optimus G Pro (pictured below), which "ups the game from its predecessor in most every department: a giant 400-ppi 5.5-inch display, 1.7GHz quad-core Snapdragon processor, 13-megapixel camera, 2.1-megapixel front-facing cam and a massive 3,140mAh hour battery," notes the article. Another standout feature is the dual-camera mode, during which both front and rear cameras record at once, "with the front-facing cam's image overlaying the main camera with a picture-in-picture effect."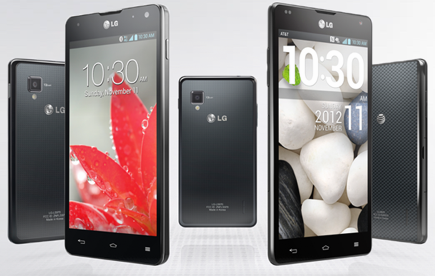 HTC's One smartphone "finds ways to shine with its subtle design tweaks. Its machined aluminum shell mates with polycarbonate components using zero-gap injection molding for a perfect fit and finish. The 4.7-inch, 468-ppi Gorilla Glass 2 display with its beveled edges looks, and, as importantly, feels like a premium device," writes Engadget.
As for tablets, the Sony Xperia Tablet Z is impressive as a "6.9mm-thin housing features a 10-inch 1,920 x 1,200 display with a quad-core 1.5 GHz Snapdragon S4 processor, 8.1MP rear camera and 2MP front-facing cam with a solid 6,000mAh battery keeping it all lit," details Engadget. The article also mentions HP's Slate 7 as a solid new tablet option.
Of those NFC apps that were everywhere, Sony's Xperia T and a few others "were hard not to notice," suggests the article. "The GSMA and Sony partnered up to spotlight some of NFC's capabilities by passing out handsets pre-loaded with a SIM and bolstered by a show ecosystem that supported apps to enable mobile purchases, maps and even display your event badge," it explains. While Engadget praises the overall NFC effort, it's still not convinced consumers will begin using it daily yet.
Topics:
Barcelona
,
GSMA
,
HP Slate 7
,
HTC One
,
LG
,
LG Optimus G Pro
,
Mobile
,
Mobile World Congress
,
MWC
,
NFC
,
Smartphone
,
Sony
,
Sony Xperia Tablet Z
,
Tablet
,
Wireless
,
Xperia