Disney is expanding support for its cloud-based digital movie service on more platforms with the debut of new apps for Amazon Fire tablets, Amazon's Fire TV and Fire TV Stick, and Microsoft Xbox 360. Apps for Android TV and Roku are expected in a few days. The Disney Movies Anywhere collection currently features more than 450 digital movies from Disney, Marvel and Pixar in addition to Star Wars and short form content. Its new app is now available to Amazon and Microsoft customers, the result of new partnerships between the studio and both companies.
Disney Movies Anywhere, powered by KeyChest, launched in February 2014 as an app that required users to sign in with their iTunes and Disney account info in order to create a library of movies purchased via iTunes. Users could also use Digital Copy codes located in select Blu-ray Discs and DVDs.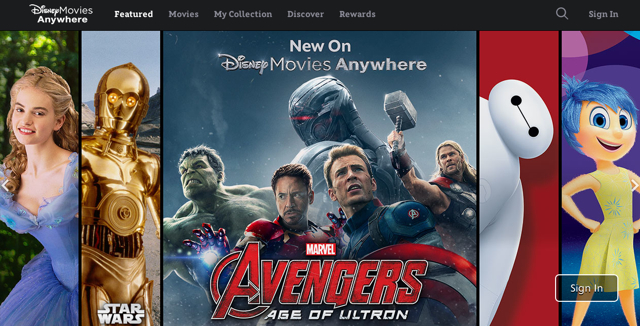 "Since its debut, the service also rolled out to Google Play and Walmart's Vudu," reports TechCrunch. "Plus, it works with Apple TV's AirPlay and Chromecast, the studio notes."
Movie fans won't necessarily need to use separate apps to access content, since they can watch "directly through the Amazon Video apps for TVs, connected devices and mobile devices, as well as online."
Similarly, Microsoft customers can view movies online and via Microsoft's Movies & TV service on Windows devices and Xbox consoles.
Topics:
AirPlay
,
Amazon
,
Android TV
,
Apple TV
,
Apps
,
Blu-ray Discs
,
Chromecast
,
Cloud
,
Digital Copy Codes
,
Disney
,
Disney Movies Anywhere
,
DVDs
,
Fire TV
,
Fire TV Stick
,
Google
,
Google Play
,
iTunes
,
KeyChest
,
Marvel
,
Microsoft
,
Mobile
,
Movies
,
Movies & TV
,
Pixar
,
Roku
,
Star Wars
,
Tablets
,
Vudu
,
Walmart
,
Windows
,
Xbox
,
Xbox 360