Amazon stated that it would allow third-party developers to create widgets for its Alexa devices, or what it said will be "rich, customizable, glanceable, self-updating views of skill content." It won't be an advertising service, according to Amazon Alexa Skills vice president Aaron Rubenson, but users will see personalized results based on the signals they send Alexa. Comedy Central will be one of the first featured skill cards. Amazon also announced that most Echo smart speakers will support the Matter open standard for smart home devices.
The Verge reports Amazon "now has 900,000 registered developers and 130,000 skills (up from 750,000 developers a year ago and 100,000 skills in September 2019)," according to the company, while Rubenson added that "developer revenue has doubled annually, with some skill developers making over $1 million a year."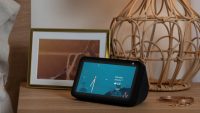 With regard to skills, even if the user doesn't have an Echo device with a screen, "Amazon says it's expanding its name-free interaction toolkit to let skills volunteer to be promoted when you speak phrases like 'Alexa, how did the Nasdaq do today?'." If the user agrees with the suggested skills, "Alexa can pass along your request instead of making you repeat yourself."
Amazon will also allow developers to sell products inside their skills "as well with Alexa shopping actions and get up to a 10 percent affiliate marketing commission from Amazon, too." The caveat is that developers can only sell products listed on the Amazon marketplace. Amazon is also launching paid skills.
Rubenson said Samsung will introduce a refrigerator with Bixby and Alexa "operating side by side." Verizon will also use its Alexa Custom Assistant to create its own voice assistant for smart displays, "where Alexa can handle standard Alexa tasks while the new Verizon assistant can handle requests like checking your wireless bill."
Among the skills listed by Amazon are Food Skill APIs for food delivery, which Domino's Pizza will use "at some point." Send to Phone, which allows users to start an experience on an Alexa-enabled device and continue on a mobile phone, is slated to be used by McDonald's UK, Twitter, Husqvarna, Iberia Airlines, Cookpad, and Lysol.
Whole Foods plans to launch a "curbside pickup experience" this year with Event-Based Triggers and Proactive Suggestions, and Find My will offer the Alexa command "to more companies with Tile-like device trackers, with Samsung and Remote+ arriving later this year."
Alexa Device Discovery will allow the user to "discover new categories of devices like printers and smart TVs." Alexa Entities "now lets any skill developer access Alexa's knowledge graph for general answers."
More information on the "more than 50 features to build ambient experiences" can be found on Amazon's developer blog.
Topics:
Aaron Rubenson
,
Advertising
,
Alexa
,
Alexa Custom Assistant
,
Alexa Skills
,
Amazon
,
Bixby
,
Comedy Central
,
Cookpad
,
Developer
,
Digital Assistant
,
Domino's Pizza
,
Echo
,
Husqvarna
,
Iberia Airlines
,
Lysol
,
Matter
,
McDonald's
,
Nasdaq
,
Samsung
,
Smart Home
,
Smart Speaker
,
Twitter
,
Verizon
,
Whole Foods