A slump in PC sales and crashing cryptocurrency markets appear to be tempering a demand for semiconductors spurred by COVID-19 era supply chain shortages. Inflation is another mitigating factor, as sales of laptops and high-end GPUs for gaming and cryptocurrency mining slacken. Research firm Gartner predicts global PC shipments will contract by 9.5 percent in 2022, with consumer demand projected to decline by 13.5 percent. Enterprise sales are also expected to drop, by 7.2 percent, according to Gartner. Those numbers align with the 10 percent PC sales decline Micron Technology has forecast.
Micron — which makes memory chips for PCs, automobiles and smartphones — said last week it is bracing for "smartphone sales to be meaningfully lower than previously expected for the rest of 2022" due to reduced consumer demand, according to CNBC, which reports Micron CEO Sanjay Mehrotra told analysts on an earnings call the company expects smartphone unit volume to drop by 5 percent, and that "some PC and smartphone customers were 'adjusting their inventories' in the second half of the year."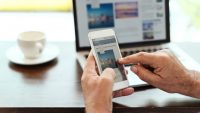 Gartner senior director analyst Ranjit Atwal attributes the declines to "a perfect storm of geopolitics upheaval, high inflation, currency fluctuations and supply chain disruptions," according to a recent report that predicts smartphone sales in China will fall by 18 percent this year.
"The outlook is particularly bleak in the Europe, Middle East and Africa region, where Gartner says PC sales will fall by 14 percent compared to one year ago," writes SiliconANGLE, calling 2022's downward trajectory "a far cry from the height of the COVID-19 pandemic, which sent PC and smartphone sales through the roof. In 2021, PC shipments rose 11 percent compared to the year prior, while mobile phones sales jumped 5 percent."
According to The Wall Street Journal, companies such as Intel and Nvidia are anticipating "rockier months ahead after two years of surging demand," although demand remains high in areas including chips for data centers and automobiles.
Reuters reported in early June that Intel "is 'pausing all hiring and placing all job requisitions on hold' in its client computing group" and is pulling back on expo participation and executive travel while it reassessed the outlook for the rest of 2022.
"U.S. inflation hit 8.6 percent in May, the highest in more than four decades, leading the Federal Reserve to raise interest rates," writes WSJ.
Related:
U.S. Wants Dutch Supplier to Stop Selling Chipmaking Gear to China, Bloomberg, 7/5/22
Global PC Sales to Drop 9.5% in 2022 Because of Multiple Challenges, The National, 7/5/22
Acer Looks to Eco-Friendly Laptops Made from Recycled Materials as PC Sales Slow, Forbes, 7/5/22
Topics:
Acer
,
Africa
,
Automobiles
,
China
,
Chips
,
COVID-19
,
Cryptocurrency
,
Data Centers
,
Enterprise
,
Europe
,
Federal Reserve
,
Gartner
,
GPUs
,
Inflation
,
Intel
,
Memory Chips
,
Micron Technology
,
Middle East
,
Nvidia
,
PC
,
PCs
,
Ranjit Atwal
,
Sales
,
Sanjay Mehrotra
,
Semiconductors
,
Smartphones
,
Supply Chains
,
Video Games