Anki, the company that introduced Anki Drive, artificial intelligence-powered racecars, will ship its second product in October: a robot dubbed Cozmo, the size of a coffee mug that costs $180. By combining artificial intelligence, computer-vision science, advanced robotics, character development and machine-learning algorithms, Cozmo is a toy that is intended to be much like a real-world Wall-E or R2-D2, says chief executive Boris Sofman. The company is also offering SDKs for Cozmo's components.
Wired notes that, "if Anki can actually pull off this difficult mix of high-tech and kid-friendly, Cozmo could be much more than the next Tickle Me Elmo or Furby."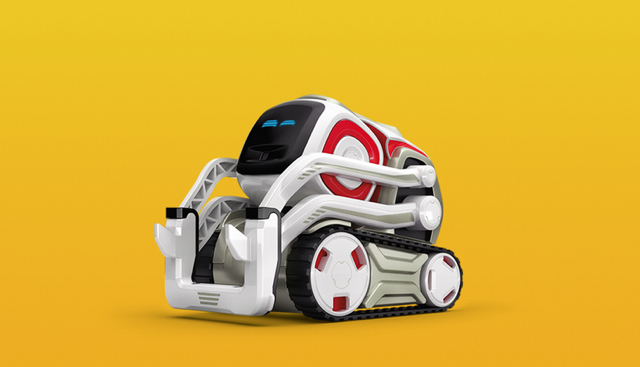 "Next time a Pixar movie comes out, the cute characters could feel as alive in your living room as they do on-screen," it adds.
Sofman notes that, by offering SDKs, the company hopes to see children "learning to program by building fun new games and features for their adorable robots." "With enough attention and love to it," Sofman says, "this could be the most capable STEM platform that ever existed."
Cozmo is taking toys to a new level, reports The Wall Street Journal, which compares the Anki robot to BB-8 in "Star Wars: The Force Awakens." Although Sphero debuted an iPhone-controlled BB-8 last winter, says WSJ, it couldn't interact with its surroundings. More content and the ability to carry on a conversation are must-have features for Cozmo to stay a hit, it suggests. In fact, Anki plans to add new games, emotional reactions and, eventually, story-based games and friends.
Venture capitalist Marc Andreessen, who calls Anki "the best robotics startup I have ever seen," led the company's funding round and now sits on the board. Cozmo's technology includes a single camera, which runs at 15 fps, hidden in a slot designed as its mouth. The camera sends footage to the user's smartphone, which does the processing and sends instructions back to Cozmo.
Cozmo's development relied in great part on machine learning. CMU robotics researcher Michael Wagner notes that's because, "a lot of situations where you invoke machine learning are because you don't really understand what the system should do. How should it prefer to drive over rough terrain versus smooth terrain? You don't know. So you throw machine learning at it."
Anki also created what it calls an emotional engine, "a collection of algorithms that affect the way the robot mimics feelings," with an emphasis on Core Emotions as described by psychologist Paul Ekman and portrayed in "Inside Out."
Pixar veteran Carlos Baena, who the company calls the "soul" of Cozmo, created the "nonsensical language and chipper voice that is still somehow communicative." The team also wrote an original score, which plays as Cozmo toodles around. The company plans to continually update Cozmo once it's released so, as Andreessen says, "you never run out of things to do with your crazy little robot."
Topics:
Anki
,
Anki Drive
,
Artificial Intelligence
,
BB-8 Droid
,
Boris Sofman
,
Camera
,
Carlos Baena
,
Computer Vision
,
Cozmo
,
Furby
,
Games
,
Inside Out
,
iPhone
,
Machine Learning
,
Marc Andreessen
,
Michael Wagner
,
Paul Ekman
,
Pixar
,
R2-D2
,
Robotics
,
SDK
,
Smartphone
,
Sphero
,
Star Wars
,
STEM
,
Tickle Me Elmo
,
Toys
,
Wall-E