Computer-generated influencers have arrived. The glamorous all-digital Miquela Sousa (also known as Lil Mequela), which was created by Los Angeles-based startup Brud, has been the star of an Ugg advertising campaign, appearing on billboards around the world. Brud believes it can create CGI social media stars that are easier to manage and monetize than human celebrities. It's not alone in its efforts; Soul Machines, which has debuted dozens of digital humans, is launching its Digital DNA platform to make it easier to create virtual avatars.
The Wall Street Journal notes that, according to sources, Brud raised $6 million in venture capital from Sequoia Capital and BoxGroup among others. Founders Fund also put in $100,000 for its seed round in May 2017. "You can create the Kardashians without any of the inherent issues that come with being human," said Founders Fund partner Cyan Banister.
Advertisers say that the key to a successful influencer is "authenticity," but Miquela (above, from Instagram) "is anything but authentic," although she posts photos of herself at premium restaurants and wearing high-end fashion brands. Brud "tried to cultivate an air of mystery" around Miquela, whose identity as an all-digital character was revealed "over a series of posts." According to experts, if she were human, "her 1.5 million followers on Instagram could command about $12,000-$25,000 per post to promote a product."
Brud describes itself as "a robotics and artificial intelligence company." Sources say "it isn't primarily a technology company," but rather creates "performance art" focused on "the creation of characters with all sorts of powers and personal histories," similar to comic books. Upfront Ventures partner Kara Nortman said that, "from there, the characters can be deployed for product deals, movies or headlining their own Netflix shows." For those uncertain how long of a shelf life Miquela can have, "investors point to the success of Hatsune Miku, a Japanese holographic singer who has performed to sold out arenas."
VentureBeat reports that, "Soul Machines is launching the Digital DNA platform today for creating lifelike avatars." The company has previously produced "digital humans" for Mercedes-Benz, Royal Bank of Scotland, and Autodesk. Soul Machines chief business officer Greg Cross said that, although its previous avatars were "based on the features of an actual person … Digital DNA is designed to make avatars without the need to design based on the characteristics of any individual person," which reduces the time to make an avatar from months to minutes.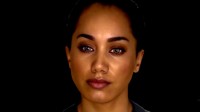 "Rather than having a single digital human or a single digital employee as a brand representative, we believe that on an ongoing basis customers should be able to choose who they want to interact with," said Cross, noting that customers could choose gender, age, ethnicity and language of the avatar they want to interact with. The New Zealand-based Soul Machines relies on neural nets "to animate the movement of bodies of digital characters … [to] mimic human movement."
The company, founded by Laboratory for Animate Technologies director/professor Mark Sagar, is also looking at creating avatars for "celebrities, sports stars, and famous actors and actresses." Its Autodesk avatar Ava (above) "is based on New Zealand actress Shushila Takao, while the company has also made an avatar based on actress Kate Beckinsale."
Related:
Meet 'Millie' the Avatar. She'd Like to Sell You a Pair of Sunglasses, Bloomberg, 12/15/18
Topics:
Autodesk
,
Avatars
,
BoxGroup
,
Brud
,
Computer-Generated
,
Cyan Banister
,
Digital DNA
,
Digital Influencers
,
Founders Fund
,
Greg Cross
,
Hatsune Miku
,
Instagram
,
Kara Nortman
,
Kardashians
,
Kate Beckinsale
,
Mark Sagar
,
Mercedes-Benz
,
Miquela Sousa
,
Netflix
,
Neural Nets
,
Royal Bank of Scotland
,
Sequoia Capital
,
Shushila Takao
,
Ugg
,
Upfront Ventures