More people are working from home now and some of them may not return to offices once the coronavirus pandemic eases its grip. Twitter, for example, said most of its employees could work from home indefinitely. OpenText Corporation in Canada announced plans to close more than half of its 120 global offices, and New York media company Skift will vacate its Manhattan headquarters when its lease expires in June. Big Tech companies, however, have invested significantly in their spaces and their switch to remote working is uncertain.
The Wall Street Journal reports that, in this economic downturn, expected to be the worst since the Great Depression, corporations see the working-from-home model as a way to save on real estate costs. Skift chief executive Rafat Ali said that giving up the company's Manhattan office and a co-working space in London will save "close to $600,000 annually, including expenses for utilities, office snacks and commuter benefits for employees."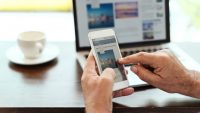 The biggest loser, says WSJ, will be "the commercial real-estate market and the big institutional investors that have invested heavily in it," including "pension funds, insurance companies and other institutions."
At real estate investment banking firm Eastdil Secured, managing director Will Silverman stated that working from home will wreak havoc with "the establishment of firmwide cultures." "I just don't know how you establish a culture among people who are only together a few days a week," he added.
OpenText is attempting to create a virtual culture with "online happy hours, virtual chess tournaments and game nights" among other ideas. At Twitter, chief human resources officer Jennifer Christie reported that, "more people engage in the meetings now that they are virtual."
But Deloitte managing director Tina Witney noted that, "younger employees often need that face-to-face interaction to build a network and advance in their careers." For that — and many other reasons — some companies are "trying to find the middle ground between working from home and working from a big corporate office … [and] looking to open smaller satellite offices closer to where employees live."
Elsewhere, WSJ reports the dilemma of Big Tech companies that have heavily invested in real estate, such as "Apple's $5 billion spaceship-shaped headquarters, Salesforce's 61-story tower in the heart of San Francisco, and, Amazon's giant, tree-filled glass spheres in Seattle."
Some tech companies say the work-from home experience of the last two months "will have lasting impact on how their industry works and recruits." Apple, for example, will hold its June developer conference "entirely online for the first time." Another incentive to continue remote working is that "soaring property prices and cost-of-living in those regions have made it ever harder to find enough talent."
Loup Ventures managing partner Gene Munster noted that, if they allow employees to work from home, "companies will have to find ways to build culture remotely, which is really tough to do." University of Michigan professor Jason Owen-Smith noted that the upside to working in an office are "fleeting and serendipitous interactions [that] help generate new ideas, and new teams."
"We're a very meeting-centric company," said Facebook VP of people growth and operations Brynn Harrington. "I don't think that there are great examples of companies that solved innovation in remote environments."
Related:
4 Things This CEO Didn't Expect About Remote Work Life, VentureBeat, 5/17/20
The Silicon Valley Workplace Will Never Be the Same, Bloomberg, 5/6/20
What Office Life Might Look Like in the Year 2030, The Wall Street Journal, 3/5/20
How to Work From Home Without Losing Your Mind, Wired, 3/3/20
Topics:
Amazon
,
Apple
,
Brynn Harrington
,
Coronavirus
,
COVID-19
,
Deloitte
,
Eastdil Secured
,
Facebook
,
Gene Munster
,
Jason Owen-Smith
,
Jennifer Christie
,
Loup Ventures
,
OpenText
,
Rafat Ali
,
Real Estate
,
Remote Working
,
Salesforce
,
Skift
,
Tina Witney
,
Twitter
,
University of Michigan
,
Virtual Meeting
,
Will Silverman
,
Working From Home