China's General Administration of Press and Publication (GAPP) announced a regulation that bans young people under the age of 18 from playing online video games between Monday and Thursday and, on the other days of the week and holidays, limits game play between 8:00 PM and 9:00 PM. Authorities blame "video game addiction" for distracting younger people from school and family responsibilities. The rule states that all video games must connect to an anti-addiction system operated by the GAPP.
The Wall Street Journal reports that the rule "will require all users to register using their real names and government-issued identification documents." To fulfill previous government requirements, Tencent Holdings, "the world's largest video game company by revenue," used technologies that, "for example, automatically [will] boot off players after a certain period and use facial-recognition technology to ensure that registered users are using their proper credentials."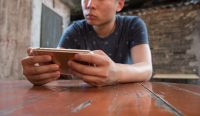 China's Xinhua News Agency noted that the government rule aims to "effectively protect the physical and mental health of minors."
Niko Partners senior analyst Daniel Ahmad, who tracks the Chinese video game market, said, "this ruling is certainly extremely harsh and will essentially wipe out most spending from minors." He added that "the new rules appear to apply only to online video games since the rules involve a real-name registration system embedded before download — conditions that aren't possible for offline games."
Although China has issued numerous regulations targeting its Big Tech companies, the new video game limits "highlight the emphasis that Beijing has placed on cultivating morality in its youth." Beijing describes video games as "motivated by profit at the expense of public morals."
Tencent responded that "it had introduced a variety of new functions to better protect minors … [and] vowed to continue to do so as it 'strictly abides by and actively implements the latest requirements from Chinese authorities'." WSJ reports that, "shares of Chinese-based video-gaming companies listed in the U.S. pulled back modestly."
U.S. game companies including Activision Blizzard and Take-Two Interactive Software have partnered with Chinese companies such as Tencent to have their games distributed in China.
Roblox also struck a joint venture with Tencent to bring its game platform to China. In 2019, China issued a ban for those 18 and under playing games between 10:00 PM and 8:00 AM and "restricted them from playing more than 90 minutes of video games on weekdays." It also limited "users between 16 and 18 years old … [from] spend[ing] more than 400 yuan, the equivalent of about $60, each month on video games."
Tencent president Martin Lau said that, "players under the age of 16 accounted for just 2.6 percent of its gross game receipts in China during the April-to-June quarter."
The New York Times reports that, "there have been signs of growing official pressure for the companies to step more strictly in line with the demands for cultural conformity from Xi Jinping, China's leader." When a Chinese newspaper singled out Tencent Holdings and other Chinese video game companies as offering products that are "spiritual opium," share prices of those companies fell sharply.
Chinese parents also complained that, "their children had big changes in temper and personality after becoming addicted to games," which was reported by government-funded Children's Legal Aid and Research Center.