The smart home sector has been evolving for at least a decade but when COVID-19 created the necessity for remote working, millions of people had a personal and very eye-opening experience in their homes. CTA senior director of member programs Melissa Matalon led a discussion with Michael D. Ham, president and co-founder of global wellness company RePure, and Ian Bryant, senior director of strategic partnerships at CEDIA, the trade group for the home technology industry. "A decade ago, health and wellness wasn't relevant to smart homes," noted Ham. "Now that people are spending so much more time at home, wellness is on everyone's minds," said Matalon.
"We're definitely in unprecedented times," agreed Bryant. "So many people found themselves working in rooms not meant to be workplaces. They didn't realize how old their networks or security systems were." Ham and Bryant pointed to lighting as one of the chief concerns of remote workers, as well as air and water quality.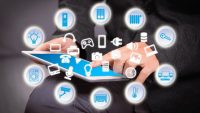 "Wellness in the smart home was already on the upwards trajectory pre-COVID but skyrocketed when the pandemic came," said Ham. "All the major builders now have wellness sections." Education starts with manufacturers and the people who are serving end clients. Ham noted that many environmental factors — such as radon and CO2 — are invisible.
"Students can only reach their peak potential when the environment allows them to," he said. That's a finding that can easily be extrapolated to those working from home. "For our ecosystems, it is about measuring and then remediating any pollution we find," he added. "You can only manage what you measure."
Bryant pointed out that, in addition to education, his group is working on making such tech solutions accessible to all by making it more affordable. "A lot of people don't realize there is a separate area of technology to make their homes a healthy environment," he said.
Ham reported that, tracking the trends, smart home products first gained traction with the upper middle class. "Now we're seeing less expensive products, like smart thermostats from Amazon for $50," he said. "That causes more adoption."
Bryant noted the Fitwel certification for healthy building projects. "When you have that emblem on your building, people know the management company or landlord has done more," he explained. "There's talk of bringing this to the residential level." He pointed to CableLabs' model "Smart Home of the Future" powered by 10G as inspirational.
Ham promotes the idea that all of the disparate tests for health factors will be integrated, so that the smart home behaves much like the body's immune system. Although there are potential privacy issues, Matalon noted that health and wellness products are regulated by the HIPAA Act. Still, said Ham, he likes the idea that consumers would opt-in to data collection of smart home systems.
Bryant suggested that "there may be a data concierge that moves the data into blockchain to secure it." "Then you can pick and choose who you want to share it with, or potentially sell it to people who want it," he said. "Everyone's keeping a close eye on this."
For more on CES 2022:
CES Hashtag — #CES2022
CES Twitter Handle — @CES
CES Facebook Page — facebook.com/CES
Topics:
10G
,
Amazon
,
Blockchain
,
CableLabs
,
CEDIA
,
CES 2022
,
COVID-19
,
CTA
,
Data Concierge
,
Education
,
Fitwel
,
HIPAA
,
Ian Bryant
,
Lighting
,
Melissa Matalon
,
Michael Ham
,
Networks
,
Privacy
,
Remote Work
,
Remote Working
,
RePure
,
Security
,
Smart Home
,
Smart Thermostat
,
Wellness