HRH Prince Constantijn of the Netherlands, Business France's Pascal Cagni, and IBM Global Technology Services CTO Bridget Karlin discussed how countries and companies around the world leverage capital, talent and the markets to gain an edge in today's global innovations. In a conversation at CES 2018 led by Time Inc. chief content officer Alan Murray, both Europeans were quizzed on how their countries create an entrepreneurial culture. Prince Constantijn pointed to his country's focus on tech education and open migration policies.
"We didn't start from zero," he said. "We already had an entrepreneurial culture, but we strengthen the talent pool by teaching coding in school. Starting a year-and-a-half ago, we put a program in place where any startup, if it gets a place in an accelerator, gets a visa to work in the Netherlands. About 1,000 people have used it already."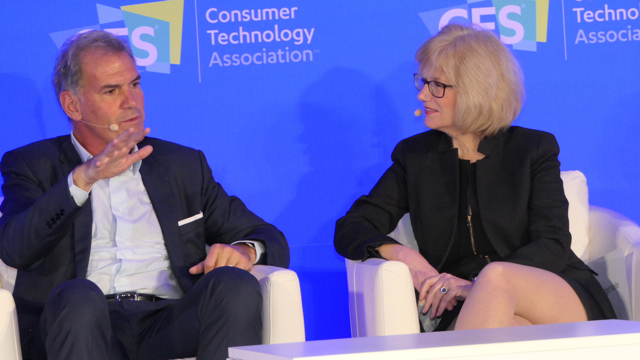 Cagni (above, left) noted that France has made itself a culture focused on innovation by "setting the tone." "A few years back, if you were a young student, the model was to become a civil servant," he said. "Over the last five years, the number of young people who want to be entrepreneurs grew from 10 percent to 50/60 percent."
France now offers a visa system for a startup's founder and his partner, and offers tax incentives. "That has made France one of the most competitive places for development," he said.
To a question about how new U.S. immigration policies have impacted companies, Karlin (above, right) replied that IBM, with operations in 170 countries, can find its talent nearly everywhere in the world. "Innovation is really everywhere," she said, noting that IBM has 3,000 researchers on six continents. "IBM will comply with new U.S. immigration policies, but to my knowledge it hasn't impacted our company."
Murray asked if the Netherlands and France compete with big companies. "Everybody is competing for money and talent," said Prince Constantijn. "But we see a counter movement away from Silicon Valley with its high cost of living. Giant companies also commoditize products, which lets other developers get involved."
Karlin said that IBM "competes and partners with all those companies." IBM chief executive Ginni Rometty noted that 80 percent of the data in the world is in closed systems; Karlin added that companies hold 80 percent of the data, which is their competitive advantage.
Murray pointed out that Europe has taken a much stricter stance on data protection. Cagni added that, "China has paid no attention to that, which is why they were able to build such an amazing business. How do you compete? We won't regulate but define the frame that allows people to function safely." Prince Constantijn added that, "smaller and medium-sized companies will find it harder to be compliant with regulations."
In the U.S., said Karlin, "we would want to encourage policymakers to make policies that promote openness and transparency." Regulation is difficult since the technology changes so quickly, added Prince Constantijn. "You need to push the conversation between industry and governments."