LG is injecting some glitz into its flagship laptops with the introduction of its Gram Style line of glass case iridescent portables. The LG Gram Style comes in 14- and 16-inch configurations, and like the featherweight gray units that came before them are slim and lightweight. The main distinction is the luminous, color-changing finish that LG says will "shine and shift dynamically, moving and changing depending on the light and angle," with more exotic color variations in the pipeline. LG was displaying various patterned Gram Style lids at its CES booth in purples, pinks, polka dots and more, asking visitors to vote their favorites, with the winner said to be coming to market.
The Gram Style's keyboard deck is a sleek surface, with a "hidden" haptic touchpad featuring "soft LED backlighting that illuminates at the user's touch," per LG. A writer for The Verge describes it as "one of the most unique-looking laptops" so far this year, and one that "might turn heads at the coffee shop."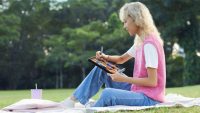 The 16:10 OLED Anti-Glare Low Reflection display has "a 120Hz refresh rate in the 16-inch model and a 2,880 x 1,800 OLED with 90Hz for the 14-inch variant," according to Engadget.
At just 2.2 pounds (999 grams), it barely weighs more than a print magazine. The Style laptops (models 16Z90RS and 14Z90RS) feature Intel 13th Gen Raptor Lake P-Core CPUs and a Gen4 NVMe solid-state drives (SSD). Like the other 2023 Gram models, the Styles support Thunderbolt 4 and HDMI connectivity, and Dolby Atmos, new to LG Gram this year.
LG also unveiled a new Gram Ultraslim, the thinnest gram model yet, at just 998 grams and 10.99 millimeters deep when closed, about the thickness of a smartphone, LG says. Even though it is the most svelte Gram in the 2023 lineup, the 15Z90RT still supplies impressive image quality and processing power, packing a 15.6-inch OLED display with Anti-Glare Low Reflection (AGLR) coating and Intel's 13th Gen Raptor Lake chip with Performance Cores (P-Cores).
LG is also bringing to market updates on the standard Gram laptops in 14-, 15-, 16- and 17-inch variants, according to Engadget, which says "these models have IPS displays, updated Raptor Lake Intel chips and Nvidia GeForce RTX 3050 laptop graphics." The Gram 2-in-1 line is getting 360-degree rotating hinges for 2023. These updated models also feature pre-installed drawing and note-taking apps optimized for the LG Stylus Pen.
LG's 2023 laptops will begin shipping in February, with pricing to be announced.
Topics:
AGLR
,
CES 2023
,
CPU
,
Dolby Atmos
,
Haptic
,
HDMI
,
Intel
,
IPS
,
Keyboard
,
Laptop
,
LED
,
LG
,
LG Gram
,
LG Gram Style
,
LG Gram Ultraslim
,
Lightweight
,
Notes
,
Nvidia GeForce
,
OLED
,
Raptor Lake
,
Rotating Hinges
,
RTX 3050
,
SSD
,
Stylus
,
Thunderbolt 4
,
Touchpad