Huawei may possibly launch its long-awaited Windows Phone 8 handsets during CES in January. There is also speculation that the company will debut a 5-inch smartphone/tablet hybrid featuring a 1080p screen. "Huawei was one of the hardware partners listed by Microsoft when it revealed its new operating system in June, however despite a few leaks, the premier device from the Chinese manufacturer hasn't officially appeared yet," reports Digital Trends. "This could all change at CES, and Huawei could spearhead the second wave of phones running Windows Phone 8 with two new devices."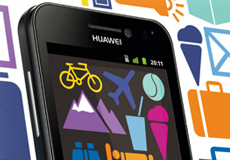 The phones are expected to use Huawei's Ascend brand name. The more basic Ascend W1 will likely include a 1.2GHz dual-core chip, a 4.3-inch screen and a 5-megapixel camera. Rumors suggest the Ascend W2 will feature a larger 4.5-inch 1280×720 screen, dual-core processor and 8-megapixel camera.
Huawei is expected to take on the Samsung Galaxy Note 2 and HTC Droid DNA with a 5-inch, 1080p smartphone/tablet hybrid. The company is also believed to be prepping a "superphone" for the second half of 2013.
"Huawei has been linked with big-screen devices for a while, and its 5-inch Ascend D2 Quad has been half-announced already," notes the post. "Perhaps an international version will arrive at CES? The strangely named Ascend Mate is a strong candidate for Huawei's future superphone, as it's said to have a 6.1-inch, 1080p screen and a quad-core processor."
"All this comes soon after it was confirmed ZTE would be launching the Grand S at CES, which will also be equipped with a 5-inch, 1080p display."