"Born Mobile" was the theme of this year's pre-show keynote as Qualcomm CEO Paul Jacobs discussed how his company has been there from the beginning — creating modems, processors and chips that help power smartphones and tablets and connect them to the Web. Qualcomm's biggest announcement was the company's new quad-core Snapdragon 800 series of processors, the next step by the company to lead the "mobile generation."
We're now all "mobile natives" that expect and rely upon mobile devices, explained Jacobs, noting that 80 percent of people indicate they can't go a day without using mobile technology. "I don't know about you, but I can't imagine life any other way," he said.
Jacobs delivered examples of how mobile technology is dramatically impacting our everyday lives and a wide range of industries from education to entertainment. He did so while parading out an eclectic array of notable faces, including film director Guillermo del Toro, NASCAR driver Brad Keselowski and actress Alice Eve (who promoted a highly-interactive "Star Trek Into Darkness" app from Qualcomm and Paramount Pictures). Big Bird even made an appearance and Maroon 5 performed during the close of the presentation.
Microsoft CEO Steve Ballmer surprised the crowd by appearing onstage (the opening keynote has traditionally been delivered by Microsoft, but the company no longer has a significant presence at CES). Ballmer promoted Windows RT and Windows Phone, both powered by Qualcomm chips.
Jacobs unveiled a range of chips aimed at premium mobile devices and claims the new flagship Snapdragon 800 series has 75 percent more power than its fastest predecessor, the Snapdragon S4 Pro. It offers improved Wi-Fi connectivity and its 4G LTE Cat 4 modem allows data rates up to 150Mbps. The chip is so powerful that Jacobs suggests we could see smartphones recording video in Ultra HD as early as this year. Equally as impressive, he says the Snapdragon 800 consumes half the power of its predecessor.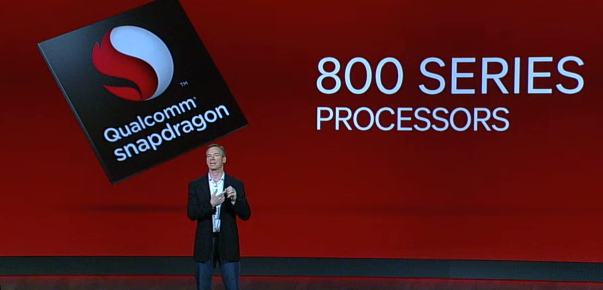 "It's the most advanced wireless processor ever built," claims Jacobs. "This little chip is going to make a big impact."
"Not only will you see this Snapdragon 800 processor in mobile devices like smartphones and tablets, but it will be featured in computing and consumer electronic devices such as smart TVs and digital media adapters," notes the Qualcomm blog. "Snapdragon 800 processors are sampling now and expected to be available in commercial devices by mid-2013."
If you are in Las Vegas this week, you can visit Qualcomm in South Hall, booth #30313.