DISH Network CEO Joe Clayton clearly hasn't lost any momentum since last year's energetic introduction. The animated Kentucky native chided broadcasters for their fight against his company's commercial-skipping AutoHop feature and warned that channel takedowns may be necessary to keep costs down, all while touting the company's new mobile and second screen offerings throughout Monday's press conference.
"The current business model must change" as consumers demand more choice and control over content, Clayton stressed. He wondered openly whether these "pro-consumers" would continue to pay out $100 a month for TV and hinted that dropping channels may be the only way to stem ever-increasing programming costs.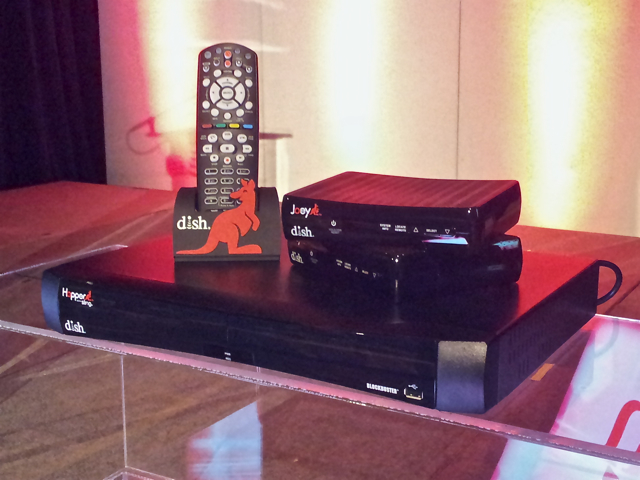 The centerpiece of the press conference, however, was the next-generation Hopper tuners that hope to keep up with consumers' "sprint toward mobile entertainment." The tuners support the new, free DISH Anywhere app, finally making use of DISH's 2007 acquisition of Sling Media to allow remote viewing of live and recorded content. The combination DVR will retail at $100 more than its predecessor at $499, but will be free for new subscribers. The heftier price point is actually a bargain considering it essentially combines the old DVR tuner with an external Slingbox that retails for $299.
The new Hopper also incorporates hardware to support the new, and also free, Hopper Transfers app to allow for DVR content to be downloaded to any Android or iOS powered device for playback when a wireless Internet connection is unavailable. As DISH continues to gain more of the market share (it has sold 2 million Hoppers and Joeys since their release less than a year ago), it is fair to wonder whether it renders services like HBO GO redundant, if not obsolete.
These technologies are not groundbreaking by themselves, but the integration of these concepts into one set-top box is powerful, especially when offered by a content provider. It presents a simplistic, unified environment for the user unlike anything a traditional smart TV could provide. The DISH second screen app Explorer for instance, has the advantage delivering broadcaster-defined content directly to the mobile device in real time, in addition to the niceties like social media integration and remote control capabilities.
The company is hoping to release the new Hopper with Sling tuners and their new apps within the next month. You can check out these offerings at DISH Network's booth in Central Hall, #8143.