Startup CENTR Camera, comprised of former Apple employees part of the iPhone camera team, has created a camera that allows users to capture everything happening around them simultaneously. The camera combines smartphone hardware and imaging software. The circular shaped camera combines footage captured by four 5-megapixel cameras into one 360-degree panoramic video. The device can easily fit in a user's hand, weighs about the same as a first generation iPod, and will cost $399.
CENTR Camera plans to create accessories to allow users to mount their camera onto a helmet or car. The camera also features a donut shape that allows users to grip their thumb through it.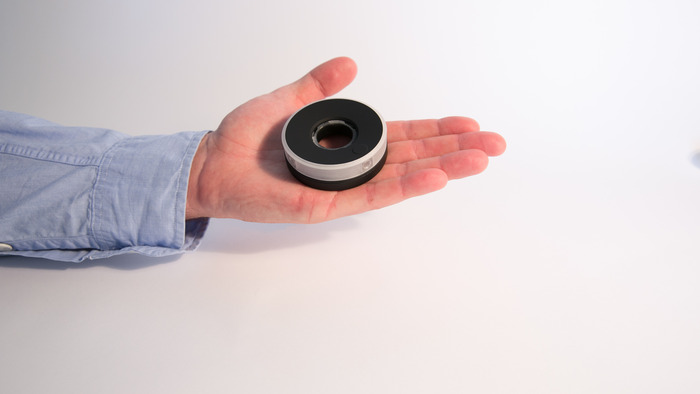 This type of camera stems from the concept of GoPro cameras, which allow users to record excellent footage while playing sports and in any weather condition. Lytro's recently announced Illum camera, which is capable of allowing photographers to use visual tricks will also be a competitor to CENTR Camera.
Since CENTR was created in 2011, it has done work based on technology it has created for the U.S. Army, National Geographic and Fox Sports.
For more info, visit the CENTR Camera site or check out a recent write-up from Business Insider.
The company has also launched a Kickstarter campaign for its CENTR Cameras in the near future, hoping to prove that there is a demand for this type of camera.
Topics:
Apple
,
Army
,
Camera
,
Campaign
,
CENTR
,
Circular
,
Competitor
,
Create
,
Device
,
Donut
,
Employee
,
Entrepreneur
,
Everything
,
Footage
,
Former
,
FOX
,
geographic
,
GoPro
,
grip
,
hand
,
Hardware
,
Helmet
,
Illum
,
Imaging
,
iPhone
,
iPod
,
Kickstarter
,
Lytro
,
Mount
,
Panoramic
,
Photographer
,
Record
,
Shape
,
Smartphone
,
Software
,
Sports
,
Startup
,
Team
,
Technology
,
Trick
,
Video
,
Visual
,
Weather