Insta360 and Leica have teamed to launch a new camera capable of recording 6K 360-degree video and 21MP 360-degree still images. The Insta360 ONE RS 1-inch 360 Edition, which features dual 1-inch sensors, "allows creators to shoot in industry-leading image quality with a tool that's small enough to carry anywhere they go," according to Leica. "The 1-Inch 360 Edition represents Insta360's continued mission to make ONE RS the most comprehensive and versatile camera on the market," explains Insta360 founder JK Liu, emphasizing "impressive performance even in low light."
"The Insta360 ONE RS 1-inch 360 Edition is designed to make 360-degree content creation more accessible and eliminate the need for specialized, bulky rigs," writes Digital Photography Review, explaining "the camera's pair of lenses record full panoramic 360, no matter where the camera is pointed. The camera captures all the action in one take."
Imagery can be stored in either immersive 360 or as flat footage with the included Insta360 software. Video at 5,888 x 2,944 can be recorded at up to 30 frames per second. "If you want faster frame rates, you can record 3,040 x 1,520 video at up to 50fps," DPReview writes, noting, "the camera records raw images (DNG format)."
The camera's compact form factor "allows creators to shoot in ways that simply weren't possible before," whether for narrative filmmaking, VR content production, extreme sports or enterprise applications, Insta360 notes on its blog. Insta360's FlowState stabilization uses horizon leveling algorithms to produce smooth and level footage without the need for a gimbal or other stabilizing equipment.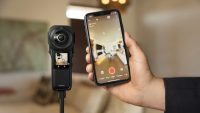 The Insta360 One RS 1-inch 360 Edition retails for $800, "which is quite a jump from the $550 Twin Edition (which comes with a '4K Boost Lens' and a '360 Lens' instead)," reports Engadget, writing that "a company rep explained that this new kit is targeting the prosumer market, such as users who want to create virtual tours for museums or real estate properties."
Leica Camera AG and Insta360 announced their strategic partnership in January 2020 with the launch of Insta360 ONE R, an adaptive action camera that uses an interchangeable camera module to combine the flexibility of 360-degree capture with the precision and resolution of traditional single-lens shooting. The ONE RS 1-inch 360 Edition marks the first 360 camera to be "co-engineered" with Leica.
Topics:
360 Edition
,
360-Degree Camera
,
6K
,
Action Cameras
,
Cameras
,
CMOS
,
Creators
,
DNG
,
Enterprise
,
Filmmaking
,
FlowState
,
Insta360
,
Insta360 ONE RS
,
JK Liu
,
Leica
,
Museums
,
Photos
,
Production
,
Prosumer
,
Real Estate
,
Sensors
,
Sports
,
Twin Edition
,
Video
,
Virtual Reality
,
Virtual Tours