To meet the needs of its younger audience, Snapchat has added BuzzFeed and iHeartRadio as new content partners for its Discover portal. Snapchat launched the platform earlier this year in hopes that teens and millennials would follow their news and entertainment without leaving the app. The addition of BuzzFeed and iHeartRadio should bolster its efforts and get users to check out other Discover channels. Snapchat hopes to grow Discover, and recently moved the feature to its central Stories screen for easier access.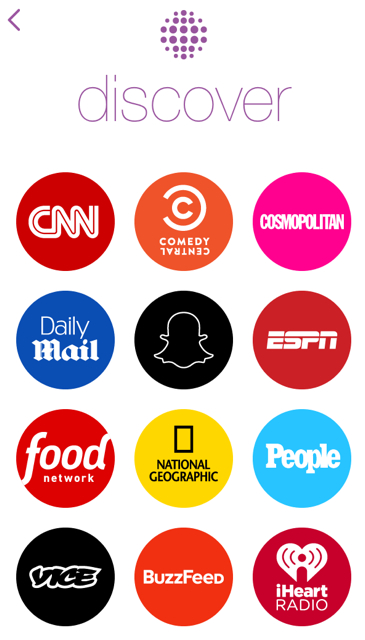 Discover currently hosts 11 channels that feature daily content from media groups such as CNN, Comedy Central, ESPN, the Food Network and Vice. The popular photo and video messaging app dropped launch partners Yahoo and Warner Music Group in favor of BuzzFeed and iHeartRadio.
BuzzFeed's young audience should help generate more traffic. "Discover serves as a revenue stream for Snapchat, so adding a publisher with 200 million unique readers every month is a pretty logical choice," suggests Re/code.
Meanwhile, iHeartRadio is expected to focus on music and pop culture with videos and slideshows featuring interviews, new artist profiles, behind-the-scenes and concerts.
According to Forbes, "iHeartRadio not only has a popular streaming service that reaches millions of users, but the company owns and operates hundreds of radio stations across the country. The conglomorate's branding has been aggressive and on-point, so many younger people know the name and associate it with the music they love."
Snapchat will expand its other features, and plans to add a new group of channels with more partners, including Vox.com.
"Snapchat has won the attention of at least 100 million daily users — 37 percent of them ages 18 to 24 — and the praise of advertisers, corporations, entertainers and politicians," explains International Business Times. "There are only 11 spots on Snapchat's media network in the United States, and they have come to represent some of the most coveted real estate in media as outlets look to connect with millennial audiences on their smartphones."
Topics:
App
,
BuzzFeed
,
Channels
,
CNN
,
Comedy Central
,
Concerts
,
Cosmopolitan
,
Daily Mail
,
ESPN
,
Food Network
,
iHeartRadio
,
Messaging
,
Millennials
,
Music
,
National Geographic
,
News Portal
,
Photos
,
Radio
,
Snapchat
,
Snapchat Discover
,
Snapchat Stories
,
Snaps
,
Social Media
,
Teens
,
Vice
,
Video
,
Vox.com
,
Warner Music Group
,
Yahoo