The new Broadway musical "Holler If Ya Hear Me," inspired by the music of rapper Tupac Shakur who was murdered in 1996, will feature a stage where actors are within arms length of the first few rows of the audience. The play's creators spent $200,000 to transform the Palace Theatre to create a sense of intimacy, dramatically changing the original seating arrangement to stadium style seating in the orchestra section. The new structure closely resembles that of a movie theater.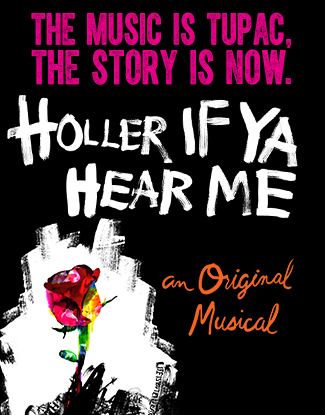 The musical opens in previews on May 29. The story revolves around John and Vertus, played by actors Saul Williams and Christopher Jackson, who grow up in a lower class neighborhood in the Midwest. Their friendship is torn apart when John is arrested and sent to prison.
In the new structure, rows A-J rise from the front of the screen to the mezzanine, allowing audience members to easily focus on the performers, and encouraging the performers to focus their delivery upward.
"As an actor, you're constantly trying to split your focus," said the production's scenic designer, Edward Pierce. "I think the actors are going to find some great comfort in this because they only have to play up, which means they can keep their chin up, which allows them to be very consistent and clean in projecting these lyrics."
The new seating will decrease the theater's capacity from 1,740 to 1,120 seats, and the production is responsible for returning the Palace Theatre's seating to its original state after the show ends.
To take advantage of the new seating, the production will feature writings and projections on the stage floor, which could not be seen by the audience in regular orchestra seating. The projections will animate the main character's drawings done in prison.
"The landmark Palace Theatre is one of the Nederlander Organization's nine Broadway theaters, and was built in 1913. It operated as a vaudeville house before it was renovated into a Broadway theater in 1965 by the Nederlanders," reports The Wall Street Journal.
The Nederlander Organization backed the proposal to reconfigure the seating. "From there, the plan entered an approvals process that included the Landmarks Preservation Commission, public assembly permits and compliance with the American Disabilities Act."
Topics:
American
,
Audience
,
Broadway
,
Commission
,
Creator
,
Design
,
Designer
,
Disabilities
,
Experience
,
Floor
,
Friendship
,
Holler If Ya Hear Me
,
Landmark
,
Lyrics
,
Mezzanine
,
Movie
,
Murder
,
Music
,
Musical
,
Nederlander
,
Neighborhood
,
New York
,
Orchestra
,
Palace
,
Performer
,
Permit
,
Pierce
,
Preservation
,
Preview
,
Production
,
Projection
,
Public
,
Rapper
,
Reconfiguration
,
Row
,
Scenic
,
Seating
,
Section
,
Shakur
,
Stadium
,
Stage
,
Structure
,
Theater
,
Vertus
,
Williams