In response to a worrying shortage in chips, President Joe Biden signed an executive order to conduct a 100-day review of the supply chains for semiconductors for various products, large-capacity batteries for electric vehicles, pharmaceuticals, and rare-earth elements crucial to technology and defense. Biden is also seeking $37 billion in funding to "supercharge" chip manufacturing and urged a separate one-year review of supply chains of six "broader sectors" including food production and technology.
The Wall Street Journal reports that White House officials admitted, "the executive order wouldn't fix the near-term chip shortage … but the hope is to produce a longer-term plan to help the federal government prevent future supply-chain problems." Senators Marco Rubio (R-Florida) and Chris Coons (D-Delaware) called on Biden to invoke the Defense Production Act to "incentivize or, if necessary, require American companies to retain their domestic capacities during this time."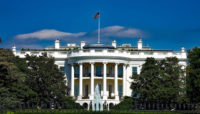 American Automotive Policy Council president Matt Blunt suggested the government "work with suppliers to give priority to the auto industry." Biden is already using the Defense Production Act for vaccine production and COVID-19 equipment.
At the National Economic Council, deputy director Sameera Fazili noted that the problem was "decades in the making" and can be solved by "making smart investments that are long term in nature, that reach families and workers in all of America." China dominates in rare earths and is a major player in pharmaceuticals, whereas "a handful of suppliers from Europe, Asia and the U.S. dominate the global auto-chip market."
As a result of the chip shortage, Ford Motor Company and General Motors have had to cut production. Biden has also held meetings with auto companies and "asked U.S. embassies to identify ways foreign countries and companies could help address the chip shortage." The Semiconductor Industry Association also urged the president and Congress to invest more in domestic chip manufacturing.
WSJ notes that, "Biden is linking the executive order to his overall plans to create U.S. jobs, particularly in manufacturing that has lost ground to foreign competition, including China." Senate Majority Leader Chuck Schumer (D-New York) added that, "the administration believes spurring new manufacturing would create jobs in communities of color."
Reuters reports that Biden said he is "directing senior officials in [his] administration to work with industrial leaders to identify solutions to the semiconductor shortfall." "Congress has authorized a bill but they need … $37 billion to make sure that we have this capacity," he added. Measures to increase chip manufacturing were "included in this year's National Defense Authorization Act but which require a separate appropriations process to garner funding."
Ford Motor Company said "a lack of chips could cut the company's production by up to 20 percent in the first quarter." General Motors cut output at factories in the U.S., Canada and Mexico. The Semiconductor Industry Association reported that, "U.S. semiconductor companies account for 47 percent of global chip sales, but only 12 percent of global manufacturing is done in the United States."
Related:
Chip Makers Applaud Biden's Catch-Up Effort but See No Quick Fix, The Wall Street Journal, 2/25/21
Making Chips Requires Lots of Water and, Gulp, Taiwan Has a Drought, Bloomberg, 2/25/21
Topics:
AAPC
,
Automotive
,
Batteries
,
Chip
,
Chris Coons
,
Chuck Schumer
,
Congress
,
COVID-19
,
Defense Production Act
,
Electric Vehicle
,
Ford Motor Company
,
General Motors
,
Joe Biden
,
Manufacturing
,
Marco Rubio
,
Matt Blunt
,
National Defense Authorization Act
,
NEC
,
Pharmaceutical
,
Rare Earth
,
Sameera Fazili
,
Semiconductor
,
SIA
,
Supply Chain