A new White House executive order prohibits certain U.S. investment in China for technologies including computer chips, requiring government notification for some sectors. The order authorizes the Treasury Department to restrict U.S. investments in Chinese entities involved in the development and production of semiconductors, quantum computing and artificial intelligence systems. The Biden administration says the restrictions apply to "narrow subsets" within the three areas, with a goal of preventing American capital and expertise from advancing technologies that could be used by the Chinese military in ways that could threaten U.S. national security.
Signed by President Biden on Wednesday, the EO targets private equity, venture capital, joint ventures and so-called "greenfield investments," which involve parent companies establishing subsidiaries in different countries.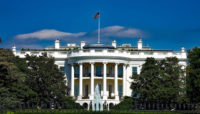 The Treasury Department said in a statement it has established an advanced notice of proposed rulemaking seeking public comment within 45-days on the EO. In addition to the People's Republic of China, the EO identifies Hong Kong and Macau as regions of concern.
"The Biden administration is committed to keeping America safe and defending America's national security through appropriately protecting technologies that are critical to the next generation of military innovation," according to the Treasury Department, which contextualizes the order as a "narrowly targeted action" that complements previously established export controls and emphasizes the administration's "longstanding commitment to open investment."
The New York Times describes the EO as "the latest in a series of moves putting further distance between the world's two largest economies" and says it comes at a fraught moment in the U.S.-China relationship.
"A series of expanding export controls on key technologies to China has already triggered retaliation from Beijing, which recently announced the cutoff of metals like gallium that are critical for the Pentagon's own supply chain," NYT writes.
Recent reviews have "concluded that investments in new technologies and joint ventures were fueling China's military and its intelligence-collection capabilities, even if indirectly," writes NYT, explaining that American officials feel "Western investment is key to China's military modernization plans — especially in space, cyberspace and the kind of computer power that would be needed to break Western encryption of critical communications."
While a bipartisan effort in Congress led by Senators Bob Casey (D-Pennsylvania) and John Cornyn (R-Texas) seeks to impose similar limits, NYT reports that "administration officials said they would try to align their upcoming rules with the congressional framework."
Related:
Biden Order Proposes New Restrictions on China Tech Investment, The Washington Post, 8/9/23
White House Unveils Ban on U.S. Investment in Chinese Tech Sectors, The Financial Times, 8/9/23
China to Require All Apps to Share Business Details in New Oversight Push, Reuters, 8/9/23