Virtual reality now trumps megapixels in phone manufacturers' pitches to consumers. Over the years, the biggest phone makers have boasted of bigger screens and better photos. But, at this year's Mobile World Congress, many manufacturers are highlighting the use of their smartphones as an inexpensive mobile device for VR viewing. That's particularly the case with new offerings from Samsung and its archrival LG, both of which are offering virtual reality capabilities. Even smaller manufacturers are getting in on the game.
Variety reports that Samsung introduced two new Android-based smartphones in Barcelona: the Galaxy S7 and S7 Edge, both of which are improvements on last year's models but "not radical departures," with only a handful of enhancements. Samsung is pushing the phones as entryways to virtual reality, including a free Gear VR headset with S7 and S7 Edge pre-orders and, from partner Oculus, $50 worth of free content.
Samsung also debuted a way for consumers to make their own VR content, with its Gear 360 camera. The consumer-level device records 360-degree videos and photos in almost-4K resolution, which can then be wirelessly transferred to one of Samsung's new phones where the two images are "stitched together in a matter of minutes."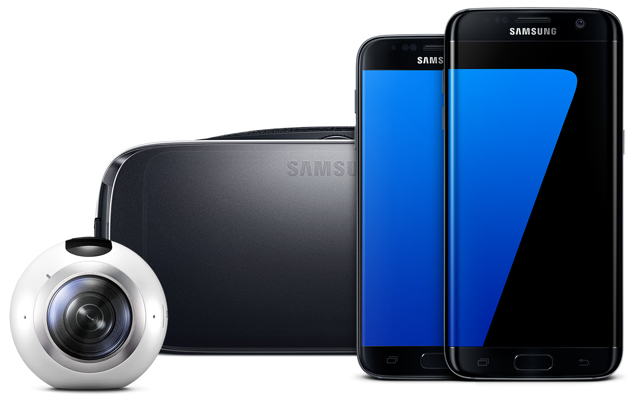 Also at Mobile World Congress, LG introduced the LG 360 VR headset with its own integrated screen, which means the user doesn't have to use the phone as a display. Although LG hasn't announced release dates or price, the company is presumed to be filling "a gap between cheaper mobile VR headsets and the expensive stationary headsets made by Oculus and HTC."
What makes it much less expensive than a Rift or Vive is that the LG 360 is powered by the company's new G5 smartphone. LG also released the LG 360 Cam, its own 360-degree video camera that "works best" with its G5 phone.
Variety adds that, "even some of the smaller mobile phone makers are banking on VR," pointing to Alcatel OneTouch that transforms the plastic box the new Idol 4S phone comes in into a VR viewer. The box comes with integrated lenses, and "doubles as a Google Cardboard-compatible viewer that can be used to explore Android-based VR apps."
Pitching VR as a use for new phones is smart thinking, says Variety, which notes that it turns the device into "a source of immersion that lets you literally forget that you have a phone strapped to your forehead, if only for a few minutes." Since smartphone prices are much more attractive than the high-end headsets, phone makers may have success with users who want to give VR a try without breaking the bank.
Topics:
360 Video
,
Alcatel OneTouch
,
Android
,
Barcelona
,
Camera
,
Galaxy S7
,
Gear 360 Camera
,
Gear VR
,
Google Cardboard
,
Headset
,
HTC
,
Idol 4S
,
LG
,
LG 360 Cam
,
LG 360 VR
,
LG G5
,
Mobile
,
Mobile World Congress
,
Oculus
,
Photo
,
Rift
,
S7 Edge
,
Samsung
,
Screen
,
Smartphone
,
Spain
,
Virtual Reality
,
Vive