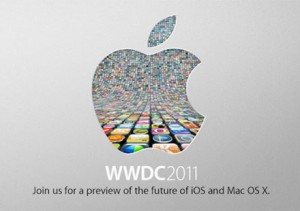 The much anticipated Apple Worldwide Developers Conference kicked off Monday of this week in San Francisco and continues through tomorrow. To gets things rolling, Apple CEO Steve Jobs delivered the opening keynote and, as expected, focused much of his presentation on the company's initiatives regarding cloud computing and related services.
Some analysts are commenting that Jobs was not only introducing cloud initiatives during the keynote, but attempting to redefine the very notion of the technology. "It just works," was Jobs' repeated mantra while he appeared on stage, suggesting that with iCloud, "Apple is transforming the cloud from an almost tangible place that you visit to find your stuff, to a place that only exists in the background. It's never seen. You never interact with it, your apps do — and you never realize it. It's magic," reports TechCrunch.
In the same article, TechCrunch suggests that Apple is viewing the cloud differently than its competitors (and presenting it in a simpler manner). Also, Apple is placing a greater emphasis on the web component with its MobileMe service and providing iCloud free with iOS 5. Whereas Google and Amazon are concerned with the ideas of servers, disks, data — Apple sees the focus differently. According to TechCrunch: "Files are something Microsoft worries about. Files in the cloud are something Google and Amazon worry about. Apple's iCloud is about opening an application and the thing you want to access being there." (For a list of the iCloud offerings, visit the MacDailyNews report.)
iOS 5
Apple previewed iOS 5, the latest version of its mobile operating system (the company also released a beta version to iOS Developer Program members). The beta release includes over 200 new features available for the iPhone, iPad and iPod touch by the fall. Features include: Notification Center for managing notifications in one place without interruption; iMessage service for easily sending text messages, photos and videos between iOS devices; and Newsstand for organizing newspaper and magazine subscriptions.
iCloud and Music
The response to iTunes in the cloud seems mostly positive so far (and has been helped by Apple signing agreements with all four major music labels). Rolling Stone reports that allowing consumers to "reproduce their entire digital collections on locker-style servers accessible via 10 devices – including iPhones, iPads and computers – may not save the ravaged record industry, but it could provide a crucial new revenue stream while allowing consumers to easily consolidate their music libraries in the cloud."
"Keeping these devices in sync is driving us crazy," Jobs said in San Francisco. "We have a great solution for this problem. We are going to demote the PC to just be a device. We are going to move the digital hub, the center of your digital life, into the cloud."
"It is one way to make someone pay for music they've already bought. It's pretty ingenious," commented Syd Schwartz, a former EMI Music executive in an interview with Rolling Stone. "I'm sure someone in an executive office at a major label somewhere is going, 'At least that's one way we can monetize the stuff people stole from Napster over the years.'"
Additional Announcements
Apple's iCloud announcement was augmented by news of several other products and services. The Nieman Journalism Lab offers an interesting perspective: "In addition to introducing the long-awaited OS X Lion and announcing noteworthy Twitter integration, Apple has also, from the looks of things, gone on a veritable app-eating binge. The company, it announced, has created: 'Reading List,' a read-later functionality that allows users to time-shift their consumption of content (sound familiar?); a cloud-storage service, iCloud (which looks remarkably like this one); and a new camera and image-editing feature (kind of like this one)."
From a journalism perspective, Nieman Lab adds: "The biggest news is Apple introduction of Newsstand for iOS, which looks to be essentially an iBooks for publishers' content — a central location for users' magazine and newspaper subscriptions. With the new feature (well, new as of this fall), readers can browse a virtual bookshelf — literally, 'wooden' and all — and subscribe to a periodical in one tap. New issues will be downloaded in the background, solving one of the biggest problems for magazine publishers who push out issues that are hundreds of megabytes in size."
Mac OS X Lion
As announced by Apple prior to the WWDC, the company will be releasing its new Mac OS X Lion next month. MacDailyNews reports that Lion will include more than 250 new features, 3,000 new developer APIs and, "will be available to customers in July as a download from the Mac App Store for US$29.99. Some of the amazing features in Lion include: new Multi-Touch gestures; system-wide support for full screen apps; Mission Control, an innovative view of everything running on your Mac; the Mac App Store, the best place to find and explore great software, built right into the OS; Launchpad, a new home for all your apps; and a completely redesigned Mail app."
Apple vs. the World
It's worth noting that some see Apple's developments as a significant move forward in challenging its competitors. Robert X. Cringely, for example, has gone as far as suggesting that iCloud's "real" purpose is to kill Microsoft. In response to Jobs' contention that iCloud will "demote the PC and the Mac to just be a device – just like an iPad, an iPhone or an iPod Touch," Cringely explains on his blog that "Jobs is going to sacrifice the Macintosh in order to kill Windows. He isn't beating Windows, he's making Windows inconsequential."
Intentional or not, only time will tell. Let us know your thoughts…
Related TechCrunch article: "It Just Works" (6/8/11)
Related TechCrunch article: "On iCloud, Baby" (5/31/11)
Related Rolling Stone article: "How Apple's iCloud Could Help Save the Music Industry" (6/6/11)
Related Nieman Journalism Lab article: "Newsstand, Reader, iCloud: 3 takeaways for the news business from today's Apple announcement" (6/7/11)
Related MacDailyNews article: "Apple introduces breakthrough iCloud; free service 'just works'" (6/6/11)
Related MacDailyNews article: "New iOS 5 includes over 200 new features, including Notification Center, iMessage, Newsstand, Twitter integration" (6/6/11)
Related MacDailyNews article: "Mac OS X Lion with 250 new features available in July via Mac App Store for $29.99" (6/6/11)
Related Patently Apple article: "Apple working on a Sophisticated Infrared System for iOS Cameras" (6/2/11)
Related Wired article (with video): "Jobs Pitches New 'Mothership' to Approving Cupertino City Council" (6/8/11)
Related I, Cringely post: "iCloud's real purpose: kill Microsoft" (6/7/11)