Apple has launched a new website for its HomeKit software and Home App, which are used to control connected appliances and other devices in a user's house. The site displays the compatible devices from 50 different brands and allows users to group them so that multiple actions can be triggered with a single tap or voice command. Apple has recently faced more competition in the smart home space because of Amazon's Echo, which can also operate home devices via voice commands.
The Home app for iOS on iPhones and iPads lets users create scenes. For example, a "Good Morning" scene might automatically turn up the heat, open the blinds, and start the coffee maker. Users can also use Siri to perform certain commands, like checking if the front door is locked.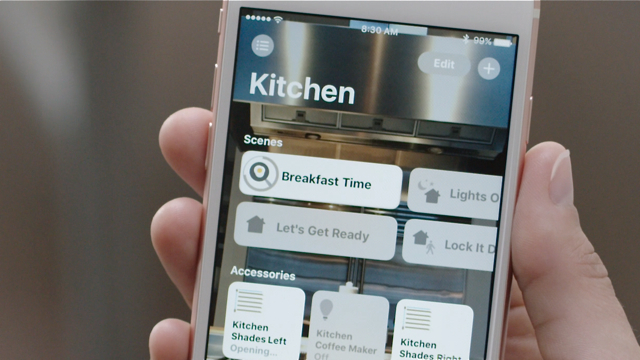 An Apple TV can also serve as the control hub for a connected home. The device can help home owners carry out tasks automatically based on their location or the time of day. It can even trigger actions based on movement detected by home motion sensors. An Apple TV also enables people to access their home controls remotely.
The new website has an introductory video, which is intended to help residents understand how Apple products can be integrated into their connected homes and their everyday lives.
That can be a hard sell because connected devices are not cheap and the convenience is minimal, according to TechCrunch. Many people can still manage their home appliances without the automation. However, with the rise of Amazon's Echo, smart devices and the apps that control them are on their way to becoming more common in households.