Apple is planning to include a song discovery feature in the newest update of iOS, which will allow users to identify songs and artists with their iPad or iPhone. Apple is working with Shazam, an app that can quickly recognize a song by collecting sound from the device's microphone and matching it with an extensive song database. Apple hopes the feature will help encourage download sales. Although iTunes is the world's largest music seller, sales have decreased dramatically in recent years.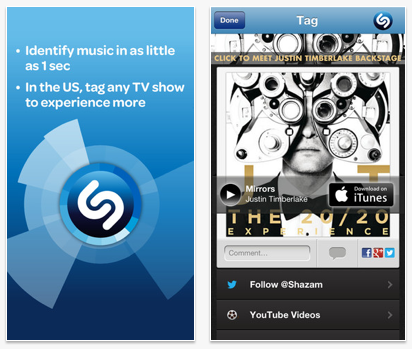 The decline is largely due to customers switching to music services such as YouTube, Pandora and Spotify. To remain competitive Apple launched iTunes Radio last year, which it is planning to expand internationally in the near future.
Apple is planning on previewing the newest update, iOS 8, on June 2 at its annual developer conference in San Francisco.
The app will also work with Siri, so an iPhone user will be able to ask "What song is playing?" and find out details of the song.
"The song-matching feature could boost Shazam, whose app was an early hit and has steered millions of song downloads through iTunes," reports Bloomberg.
As of last year, Apple had 63 percent of the paid digital download market share.
Topics:
App
,
Apple
,
Artist
,
Bloomberg
,
Conference
,
Customer
,
Database
,
Details
,
Developer
,
Device
,
Discovery
,
Download
,
Expand
,
Feature
,
Identify
,
Industry
,
International
,
Internet
,
iOS 8
,
iPad
,
iPhone
,
iTunes
,
Market
,
Match
,
Microphone
,
Music
,
Online
,
Pandora
,
Preview
,
Radio
,
Recognition
,
recognize
,
Sales
,
San Francisco
,
Sell
,
Share
,
Shazam
,
Siri
,
Song
,
Sound
,
Spotify
,
Store
,
Stream
,
Streaming
,
Update
,
User
,
YouTube