Google has a lot of assets: consumer tech, social networking, messaging, music streaming, Chromecast. Yet when it comes to streaming television, it falls behind the big players, such as Amazon and Roku. The company has tried to get Android TV built into television sets but hasn't achieved any momentum, and Chromecast requires consumers to navigate layers of abstraction. The XDA Developers portal revealed insider information about Google's next streaming video dongle, featuring an Android TV interface and, for the first time, a remote control.
XDA Developers reports that among the new hardware that Google has slated to launch this summer is a "streaming media device … rumored to be the successor to the Chromecast Ultra" and is "expected to come with a dedicated remote and Android TV software onboard." It adds it "may launch under Google's Nest branding and has been described as looking similar to Google's current Chromecast device."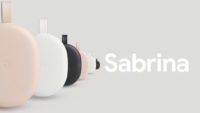 Images of the Android TV dongle, code-named Sabrina, showed "a dedicated remote … which essentially looks like a cross between the Daydream View and Apple TV remotes and will feature a microphone, Google Assistant button, and likely an IR blaster to make it programmable."
According to XDA Developers, the device has an oblong shape and will be available in black, white and light pink. The Android TV UI is expected to be revamped "with a more content-focused approach that places an emphasis on individual movies and TV shows rather than applications." One screenshot shows YouTube integrated into the "Live" tab and a new Google Assistant response UI. The device also supports Dolby Vision and is based on an Amlogic SoC. Sources said they expect the Android TV dongle "to be priced around or below $80."
A reviewer at The Verge reports that that remote control is "an admission that if Google wants to compete with Amazon, Roku, and Apple in the TV space, it needs to start doing the obvious thing." That includes Google "truly leverage[ing] YouTube," he adds, by making it integral to the platform, much the way Amazon does with Prime Video.
The reviewer notes that, "the fights over what smart TV apps do and don't appear on smart TV platforms have turned the streaming wars into a pissing contest … and none of them seem to want to have their shows integrated into the main TV interface." He adds that Google's "lack of TV success" is in part to do with the fact that, "the companies that control most of the technology and content that determines what appears on your TV are terrified of Google rolling in."
"When Google is able to make the incentives align for everybody, it cleans up," says the reviewer. Although all the factors that prevented the forces from aligning are "still there … their relative size and import seems smaller." "And if Google is willing to actually use YouTube in a larger way, maybe this time it will work," he says.