The AMC movie chain filed an IPO last Friday. Through its filing, the company reveals new plans to deal with ticket sales declines. AMC plans to develop its food concessions by expanding its alcohol and food service to more theaters. It also plans to offer assigned seating. The company was purchased by the Chinese conglomerate Dalian Wanda Group for $2.6 billion, and AMC had a $41.1 million profit on $2.69 billion in revenue ending on June 30.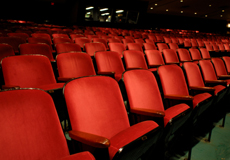 AMC operates 343 theaters with 4,937 screens, primarily in the U.S. The average AMC filmgoer spent $9.04 for a ticket and $3.92 for food and drink last year.
"AMC says those figures are higher than at any of its competitors in the U.S.," reports Quartz. "Its ticket prices rose 3.5 percent in the last year, but overall attendance was down, so AMC has focused its strategy on getting people to eat and drink more while they're there. Currently, tickets comprise 67 percent of the company's revenue, while food and beverages account for 29 percent."
AMC offers "enhanced food and beverage" service to boost their concession revenue and are converting some theaters to include full bars and restaurants. Currently, 44 AMC theaters serve alcohol at bars called MacGuffins and 11 offer full meal service to seated customers during the films.
Some select theaters allow customers to reserve specific seats in advance, a rare practice in the U.S., but common elsewhere. Currently, only 8.5 percent of tickets are sold online in advance. "We believe reserved seating will become increasingly prevalent to the point of being a prerequisite in the medium-term future," AMC says.
African-Americans and Latinos make up slightly more than half of AMC's customers. There are more films targeting Hispanic audiences with Latinos in leading roles, and AMC is positioned to take advantage of this trend.
Although ads before movies are common, AMC reports that advertising only makes up four percent of revenue. In addition, "most trailers are actually shown by the theater in order to pay for licensing the feature film," explains Quartz.
Other advertising, such as those shown before the trailers are provided by National CineMedia (NCM), in which AMC owns a 15.5 percent stake. NCM made $409.5 million in revenue last year, a six percent increase from the prior year.
Topics:
Ad
,
Advertisement
,
Advertising
,
Alcohol
,
AMC
,
Cinema
,
Concession
,
Dalian Wanda Group
,
Film
,
Food
,
Hispanic
,
Initial Public Offering
,
IPO
,
Latino
,
MacGuffins
,
Movie
,
National CineMedia
,
NCM
,
Preview
,
Restaurant
,
Theater
,
Tickets
,
Trailer