AMC, the nation's second largest movie theater chain, has decided to swap many of its traditional theater seats with reclining models at 1,800 of its 5,000 locations. This switch will remove up to two-thirds of an auditorium's seating capacity. In the next five years, AMC plans to spend around $600 million to make the renovations, which cost between $350,000 and $500,000 per auditorium. The swap will occur only in locations that need to attract more customers.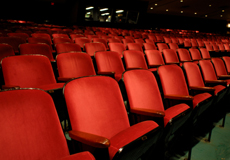 "AMC Chief Executive Gerry Lopez says he is now banking on quality over quantity," reports The Wall Street Journal. "AMC plans to wait about a year after upgrading its theaters before raising ticket prices."
Although capacity can reach fewer than 70 seats, renovated AMC auditoriums have seen an 80 percent increase in attendance on average.
This jump has been attributed to several factors. For instance, some venues have full dine-in capabilities, allowing moviegoers to consolidate their evening plans.
Reseated venues have attracted more adults than teens or younger children, as the older demographic is more willing to pay the higher ticket prices. The new seating has also attracted more midweek audiences than other theaters.
This change will occur only in specific places that do not attract as many customers. Busy venues, such as those in Los Angeles or New York, do not need the renovation to attract customers.
"The conversions highlight a liability facing the country's biggest film exhibitors: a supply of outdated theaters that rarely sell out, yet would be costly to tear down and rebuild," says WSJ.
AMC has also spoken about installing seats that do not recline as far back in order to cut only half of capacity.
"The conversions are AMC's highest-profile campaign since it was purchased for $2.6 billion by China-based Dalian Wanda Group Corp. in 2012 and went public last December," notes the article.
Topics:
AMC
,
Auditorium
,
Campaign
,
Capacity
,
Children
,
Cinema
,
Dalian Wanda Group
,
gerry lopez
,
Installation
,
Locations
,
Movie
,
Quality
,
rebuild
,
reclining
,
renovations
,
Seating
,
Seats
,
Teens
,
Theater
,
Ticket
,
Venues