At a conference hosted by NASA, Amazon described a plan that would split U.S. airspace into specific heights for various types of unmanned aerial vehicles. A high-speed transit zone, from 200 to 400 feet above the ground, would be reserved for the kind of delivery drones being developed by Amazon and others. Consumer and industrial drones would be restricted to below 200 feet, and aircraft would fly above 500 feet, with a 100-foot no-fly zone. All drones would be banned from in and around airports.
The need for such a plan has recently become more clear, as airline pilots increasingly report devices near airports, and drones forced firefighters to ground planes attempting to dump water on California wildfires.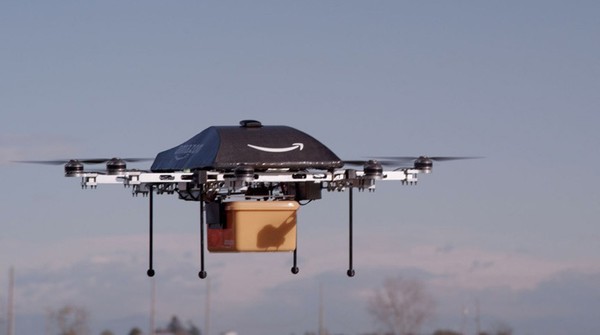 The Wall Street Journal quoted Parimal Kopardekar, head of NASA's drone-management project, as saying that "he hopes the U.S. can adopt a system to manage drone traffic before a tragedy occurs."
The problem has grown as the number of drones has increased. Although no hard numbers are available, the two largest consumer drone makers, SZ DJI Technology Co. and Parrot SA, have together sold more than 3 million devices worldwide, says WSJ, and the U.S. is their largest market. The FAA has approved 900 commercial operators.
Implementation of any system is still considered years away, but the NASA plan for an automated drone-traffic management system already has more than 100 collaborators, including Google and Verizon.
The system would use central computers to act as "regional traffic managers, running drones' flight plans" against data including weather, flight restrictions and other drones' plans to determine if a route is safe. Meanwhile, drones would avoid other drones by communicating with one another and using on-board sensors to avoid birds and other obstacles.
NASA plans to demonstrate a version for rural areas next month and enable autonomous drone flights in cities within five years. Congress or the FAA would ultimately implement any system. The current plan, notes WSJ, is far from complete, including "how to verify drones are equipped for certain airspaces and how to keep devices away from no-fly zones, such as airports."
Related:
Kentucky Man Shoots Down Drone Hovering Over His Backyard, Ars Technica, 7/29/15
CA County Offers $75,000 Reward to Catch Drone Pilots Who Botched Firefighting, Ars Technica, 7/29/15
Topics:
Agricultural Drone
,
Aircraft
,
Airspace
,
Amazon
,
Cargo Drone
,
Commercial Drone
,
Congress
,
Consumer Drone
,
Delivery
,
Drone Management
,
FAA
,
Google
,
Google Drones
,
NASA
,
Parimal Kopardekar
,
Parrot SA
,
Regulation
,
Shipping
,
SZ DJI Technology
,
UAV
,
Unmanned Aerial Vehicles
,
Unmanned Aircraft
,
Verizon