Since Amazon had a surprise hit with its tabletop, voice-controlled Echo speaker, released in November 2014, competitors have stepped into the space. Amazon is fighting back with another, smaller, portable and lower-cost version, code-named Fox, expected to debut in a few weeks. Echo, which costs $180, must be plugged into an outlet; its Alexa software answers questions, creates shopping lists, plays music and can control connected lights. Originally a voice activation experiment, Echo has become a popular personal assistant.
According to The Wall Street Journal, although Amazon doesn't release sales figures, "more than 30,000 reviewers have given the Echo an average 4.5 out of 5 stars," in contrast to the failed Fire phone that received one star from 43 percent of reviewers.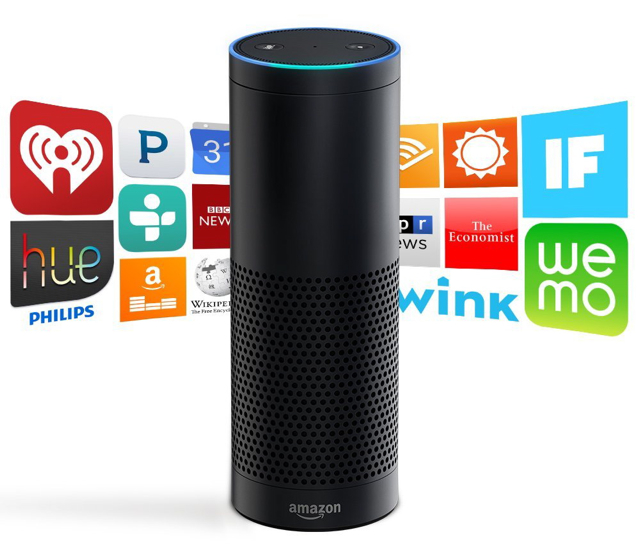 Since Echo's release, Amazon has added traffic and weather reports, Yelp restaurant recommendations, streaming music services and home automation. Amazon has also installed Alexa software into others' devices, via a $100 million fund to encourage hardware makers to innovate. A new partnership with Ford Motor Co. (announced during CES) will integrate Alexa software into its vehicles, which could, for example, open a garage door by voice command.
The new Fox device fits in the palm of a user's hand and rests vertically on a surface. It can be charged on a docking station and responds to voice command by pushing a button. Singapore-based Flextronics International is helping Amazon make the device, which was developed at Amazon's Lab126 hardware unit in Silicon Valley, where the Fire phone, tablet, TV set-top box and Kindle e-reader were developed.
Forrester Research analyst Frank Gillett says "technology firms such as Amazon are drawn to voice activation because it gives consumers an easier and quicker way to search the Web." But fewer than 10 percent of homes have home automation devices and Echo/Fox doesn't naturally lead people to make purchases on Amazon.
Still, Amazon's software could become ubiquitous inside and outside the home, making it a competitor to Apple, Alphabet's Google and Microsoft, all of which rely on smartphones and tablets for their voice assistants.
Related:
Amazon's Stealth Takeover of the Smart Home at CES 2016, The Verge, 1/7/16
CES 2016: Amazon Echo's Alexa Plays a Starring Role (and She's Not Even There), ZDNet, 1/8/16
Topics:
Alexa
,
Alphabet
,
Amazon
,
Amazon Echo
,
Amazon Fox
,
Amazon Kindle
,
Apple
,
CES 2016
,
Connected
,
Digital Assistant
,
Echo
,
Fire Phone
,
Flextronics International
,
Forrester Research
,
FOX
,
Frank Gillett
,
Google
,
Internet of Things
,
IoT
,
Lab126
,
Microsoft
,
Music
,
Singapore
,
Smart Home
,
Smartphone
,
Speaker
,
STB
,
Streaming
,
Tablet
,
Voice Control
,
Yelp