Amazon just inked a deal to acquire Santa Monica, CA-based Ring for what Reuters says is more than $1 billion. Ring made its mark with its Wi-Fi-enabled doorbells that, via integrated cameras, enable homeowners to see who's at their front door from their smartphone. The company launched with a video doorbell, now priced at $179, and has expanded to offer other video doorbell versions, and security cameras and systems. Last month, Ring acquired Mr. Beams, Wi-Fi-enabled LED lighting with motion sensing abilities.
Geekwire reports that, "Amazon previously invested in Ring via its Alexa Fund, which helps companies building skills and products for the tech giant's digital brain." The company also debuted Cloud Cam, a $119.99 home security camera that, with a companion Key, lets Amazon Prime members provide home entry to housecleaners, package delivery companies and others.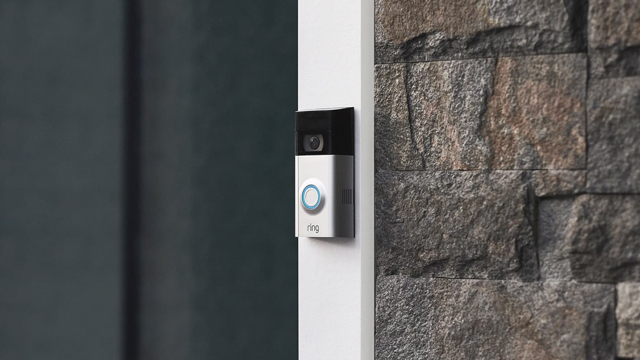 The acquisition of Ring is largely seen as a way for Amazon to expand its portfolio of smart home technologies. In December last year, Amazon also bought startup Blink, which "makes wire-free smart security cameras and video doorbells."
Although Ring chief executive James Siminoff failed to raise money for the idea on "Shark Tank," Ring has since raised more than $209 million, with investors including Virgin chief executive Richard Branson.
The New York Times reports that, "Amazon has made home automation a major focus because of the success of its Echo family of products, which allow users to control thermostats, surveillance cameras and other connected devices using voice commands." Purchasing Ring, "suggests that Amazon has more ambitious plans for the product than it could achieve through a partnership."
Latch chief executive Luke Schoenfelder "said he believed that Amazon would make a more serious effort to enter the home security market and compete against companies like ADT, Comcast and Alarm.com, possibly making home security part of its Prime membership." Forrester Research analyst James McQuivey said that Amazon's purchase was to "add more intelligent capabilities to its doorbells and cameras, like the ability to use software to recognize faces at the front door."
Recode states that sources say the Ring purchase price was actually "somewhere between $1.2 billion and $1.8 billion." This makes the purchase Amazon's second biggest after the $14 billion it spent on Whole Foods last year. In 2009, Amazon spent $1.2 billion to buy Zappos. In addition to Amazon's Alexa Fund, other investors in Ring were True Ventures, Upfront Ventures and Kleiner Perkins.
Topics:
ADT
,
Alarm.com
,
Amazon
,
Amazon Alexa Fund
,
Amazon Echo
,
Amazon Key
,
Amazon Prime
,
Blink
,
Camera
,
Comcast
,
Doorbell
,
Forrester Research
,
Home Automation
,
James McQuivey
,
James Siminoff
,
Kleiner Perkins
,
Latch
,
Luke Schoenfelder
,
Mr. Beams
,
Richard Branson
,
Ring
,
Security
,
Shark Tank
,
Smart Home
,
True Ventures
,
Upfront Ventures
,
Whole Foods
,
Zappos