According to sources, Amazon is contemplating aggressive growth for its new Amazon Go cashierless stores. With plans to open as many as 3,000 new stores, Amazon would rival 7-Eleven, Subway, Panera Bread and mom-and-pop shops where people go to get a quick meal. Chief executive officer Jeff Bezos sees the move as a way to reduce time to buy a meal in busy cities and "reinvent" the brick-and-mortar store experience but hasn't settled on the best format: a store for prepared foods and limited groceries or one that offers speedy meals.
Bloomberg reports that the company opened its first cashierless store in Seattle in 2016, followed by two additional sites in Seattle and Chicago, and that "two of the new stores offer only a limited selection of salads, sandwiches and snacks, showing that Amazon is experimenting with the concept simply as a meal-on-the-run option."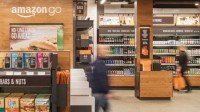 The original Amazon Go and another store offer "a small selection of groceries, making it more akin to a convenience store." But these stores are not cheap to open; "the original Amazon Go in downtown Seattle required more than $1 million in hardware alone," said one source. Limiting the offerings to prepared food would "require fewer cameras and sensors … [and] also have wider profit margins than groceries, which would help decrease the time it takes for the stores to become profitable."
In the wake of Amazon's announcement of more Amazon Go stores, Walmart shares "declined as much as 0.6 percent, reversing an earlier gain, while Target dropped about 1.5 percent and Kroger slid as much as 3.1 percent." Amazon's other physical stores include 20 bookstores in the U.S. and Whole Foods Market, but "Amazon Go is the most distinctive of all."
Further, "Bezos is willing to lose money on long-term initiatives when he smells opportunity." For example, Amazon Web Services was "unprofitable for years," before becoming "the company's fast-growing and profitable cloud-computing business," noted a source.
Amazon plans to have 10 locations open by end of 2018, about 50 in major metro areas by 2019 and then 3,000 by 2021, which would make it one of the largest chains in the U.S. According to National Association of Convenience Stores (NACS), in the U.S. there are currently 155,000 convenience stores, with 122,500 of them combined with gas stations, and "non-fuel purchases at convenience stores totaled $233 billion in 2016, with cigarettes and other tobacco products the best-selling items."
As to locations for the new Amazon Go stores, the company is "targeting dense urban areas with lots of young, busy, affluent residents willing to spend a little more than a typical fast-food experience for better quality food," which makes them "less of a threat to suburban gas station-convenience store combinations." NACS vice president Jeff Lenard said that, by targeting cities, Amazon Go will be "more of a threat to fast-casual restaurants" but requires convenient locations to be successful.
Topics:
7-Eleven
,
Amazon
,
Amazon Go
,
AWS
,
Bookstores
,
Brick-and-Mortar
,
Cameras
,
Chicago
,
Cloud
,
Convenience Stores
,
Groceries
,
Jeff Bezos
,
Jeff Lenard
,
Kroger
,
Markets
,
NACS
,
Panera Bread
,
Restaurants
,
Seattle
,
Sensors
,
Stores
,
Subway
,
Target
,
Walmart
,
Whole Foods Market