Wireless bandwidth emitted by our Amazon and Apple devices is being used by other nearby devices to supplement existing Wi-Fi. Now, Amazon and Apple are expanding those programs. Amazon Sidewalk is adding post-2018 Echo devices including Echo speakers, Echo Dot, Echo Show, Echo Plus and Echo Spot devices and newer Ring Video Doorbell Pro models to communicate on the Sidewalk network via Bluetooth. Apple's new AirTag device also sends out a wireless signal that can be used by iPhones, iPads and Macs in the area.
The Wall Street Journal reports that not only are "perfect strangers … using slivers of our bandwidth, as our devices send out and listen to little chirrups of radio chatter that don't pertain to us," but we are also able to "leverage the radios and Internet connection of countless devices owned by other people, too." Users can opt out, "but the tech giants are betting that for the most part we won't, because of the benefits that these new networks will provide."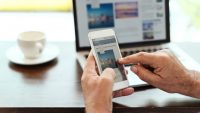 "What we're seeing now is the battle of the mesh networks," said CCS Insight chief analyst Ben Wood.
AirTag communicates with "the radio waves that enable the Find My Network," in "millisecond-bursts of light shooting out every few minutes," pinging iPhones, iPads and Macs within 30 feet. According to WSJ, "Apple's Find My Network uses short-range wireless Bluetooth signals to communicate with nearby Apple devices — as well as a recently announced handful of other products, such as Chipolo trackers and VanMoof bicycles."
MIT associate professor of electrical engineering and computer science Fadel Adib noted, "that tiny amount of data is why the Find My Network … doesn't kill our batteries or bloat our cellphone bills," using 1/100th of a cell phone network's watt of power. Apple iPhones 11 or newer, in proximity to an AirTag, "can also communicate via ultra-wideband radio frequency using Apple's custom-designed U1 chip."
Amazon Sidewalk general manager Manolo Arana reported that it uses encryption as does Apple's Find My Network. But, because its Echo devices are not in motion, "the network is not constantly in flux," making Sidewalk capable of "nearly any kind of short two-way communication." Bluetooth Tile tracking devices also add "the ability to track … through Amazon's Sidewalk network, which allows them to connect directly to Echo devices."
In addition to Bluetooth, Amazon Sidewalk is adding "long-range wireless technology known as LoRa to the Sidewalk network via certain Echo and Ring devices." According to Semtech's vice president of LoRa Marc Pegulu, "when placed inside a device like an Echo speaker, inside a home, the range can … be about a mile."
CareBand chief executive Adam Sobol noted that, "Sidewalk's long range will enable a new way to track people with dementia who may wander." His company's "smartwatch-style wrist monitor with built-in GPS can communicate via LoRa to Sidewalk-enabled Echo or Ring devices, allowing family members and caregivers to remotely monitor the whereabouts of a loved one."
CCS Insight's Wood, noting there is already a high density of Ring devices in Los Angeles, added that "you could imagine a scenario in which this invisible Amazon Sidewalk network becomes this incredible asset to Amazon and a value-add to Prime subscribers."
Topics:
Adam Sobol
,
AirTag
,
Amazon
,
Amazon Prime
,
Amazon Sidewalk
,
Apple
,
Ben Wood
,
Bluetooth
,
CareBand
,
CCS Insight
,
Chipolo
,
Echo
,
Echo Dot
,
Echo Plus
,
Echo Show
,
Echo Spot
,
Encryption
,
Fadel Adib
,
Find My Network
,
iPad
,
iPhone
,
LoRa
,
Mac
,
Manolo Arana
,
Marc Pegulu
,
Mesh Networks
,
MIT
,
Semtech
,
VanMoof
,
Wi-Fi
,
Wireless