Robot reporters are on the rise, in use at Bloomberg News, The Associated Press, The Washington Post and The Los Angeles Times among other news outlets. The Cyborg system helps Bloomberg reporters produce thousands of articles on company earnings and analyze/write financial reports very quickly. Not only do business reporters find this kind of writing dull, but Cyborg's speed helps it compete with rival Reuters. The other news outlets above use robots to report on sports, although the LAT relies on them for earthquakes.
The New York Times reports that, "last week, The Guardian's Australia edition published its first machine-assisted article, an account of annual political donations to the country's political parties," and Forbes is now testing "a tool called Bertie to provide reporters with rough drafts and story templates."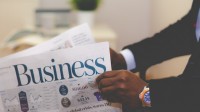 Executives say AI-enabled tools are not a threat to human employees," but rather "allow journalists to spend more time on substantive work." The AP was a pioneer in machine-generated software, signing on with Automated Insights in 2014, to "to generate minor league and college game stories" as well as "beef up its coverage of company earnings reports." Since adopting Automated Insights, the AP has "gone from producing 300 articles on earnings reports per quarter to 3,700."
"The work of journalism is creative, it's about curiosity, it's about storytelling, it's about digging and holding governments accountable, it's critical thinking, it's judgment — and that is where we want our journalists spending their energy," said the AP director of news partnerships Lisa Gibbs. The Washington Post relies on "an in-house robot reporter called Heliograf, which demonstrated its usefulness with its coverage of the 2016 Summer Olympic Games and the 2016 elections."
The Post's director of strategic initiatives Jeremy Gilbert said the company has also used AI to geo-target stories. The Global Biggies Awards, which recognize excellence in the use of big data and AI, honored The Post in the category of use of bots.
Internal alerts at the AP, The Post and Bloomberg also "signal anomalous bits of data," which are reviewed by human reporters to see if a bigger story needs to be written. The Post also used Slack curing the Olympics "to inform editors if a result was 10 percent above or below an Olympic world record." Patch, a nationwide news organization, uses AI to help its "its 110 staff reporters and numerous freelancers who cover about 800 communities, especially in their coverage of the weather."
Editors and writers put a lot of work into the front end of AI journalism, and "machine-generated stories are not infallible." At The Wall Street Journal and Dow Jones, journalists are "experimenting with the technology to help with various tasks, including the transcription of interviews or helping journalists identify 'deep fakes'." NYT "said it had no plans for machine-generated news articles, but the company has experimented with using AI to personalize newsletters, help with comment moderation and identify images as it digitizes its archive."
Topics:
2016 Summer Olympics
,
Artificial Intelligence
,
Automated Insights
,
Bertie
,
Big Data
,
Bots
,
Cyborg
,
Deep Fakes
,
Finance
,
Financial Report
,
Geo-Targeting
,
Global Biggies Awards
,
Heliograf
,
Jeremy Gilbert
,
Journalism
,
Journalists
,
Lisa Gibbs
,
Machine Learning
,
Politics
,
Robot Reporters
,
Robots
,
Slack
,
Sports
,
Weather